Raze
(2014)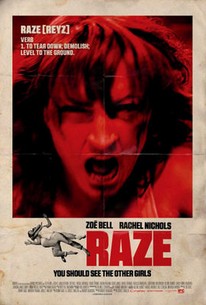 Movie Info
A young woman is abducted by an elite, secret society and wakes to find herself in the company of fifty other women who are, just like her, forced to fight for their lives in an unimaginable hell. (c) IFC Films
News & Interviews for Raze
Audience Reviews for Raze
Surprisingly likeable despite its basic premise.
This is a good little genre movie that, somewhat, reminds me of Hostel. In that there's a secret society of elites that forces others, in this case women, to fight to the death for their own amusement and entertainment. In Hostel it's more kidnapping tourists so they can be tortured to death by paying costumers, if I remember correctly. And, also like Hostel, you're left wondering how this secret society works and what led to their formation. I wish they had gone more in depth into this society, but, and this may have been a conscious decision, they decided to leave it out just in case they wanted to come back to it in a sequel, or prequel, which, if it does happen, I hope explores the secret society more in-depth. With that said, this movie obviously isn't perfect. Sometimes the scripting and the dialogue leave a lot to be desired. But, by and large, I found this film to be fairly enjoyable. In works in part because of Zoe Bell. Zoe isn't what one would call a great actress, but she is a fucking badass in this movie, but there's also a certain vulnerability about her that makes her, in spite of the horrible things she's forced to do, in order to protect her daughter's life, you still empathize with her and the character. The character development itself isn't what one would call fantastic, but at least they make somewhat of an effort. The villains are the ones that are the most interesting and Doug Jones and Sherilyn Fenn do a fantastic job at portraying these wealthy elites that justify their own actions, gleefully too I might add, by saying that they're trying to find the next woman, the champion, to join their secret society because she'd be closer to what a real woman is supposed to be like, or something like that. That part is a little hazy, the whole explanation for why the secret society is doing this, but the point is that Doug and Sherilyn are great here. The acting here is fairly solid, honestly, from all concerned. There's this cool little thing that they do before each fight where they show the names of who's fighting up next, Sabrina vs Cody, just as an example. That's not necessarily all that cool, but what's cool is that during the third act, where Sabrina fakes her death to be taken out to the morgue or whatever it is they would call it there and she kills the people that were gonna prepare her body. She comes out of the room and it just says 'Sabrina vs Everybody'. Which I thought was really cool, because it pretty much tells you what's gonna happen. And it doesn't disappoint, let me tell you. There's a wish-fulfillment element to it as, I'm fairly certain, that on the deep web there's some sort of secret societies that pull of shit like this and the third act shows what, I'm sure, plenty of people would like to do to those that are involved in the arranging of the fights and those that actually pay for this sort of sick 'entertainment'. So this third act doesn't disappoint in the slightest. The way the film ends, the door is definitely open for a sequel or, preferably, a prequel that would shed more light onto this secret society. I know a lot of people won't like this movie, and I can understand how there are parts of the film that aren't up to snuff, but I generally enjoyed this movie and thought it was a solid movie. Better than I was expecting, for sure. It's on Netflix, so watching this won't cost you absolutely anything.
Jesse Ortega
Super Reviewer
Conclusive proof that it's no more fun watching a bunch of women beat the crap out of each other than it is watching men do the same. Ugly and soulless, only star and stuntwoman extraordinaire Zoe Bell's commitment gives any reason to watch this filth.
Doctor Strangeblog
Super Reviewer
Raze Quotes
There are no approved quotes yet for this movie.