Razor Blade Smile
(1998)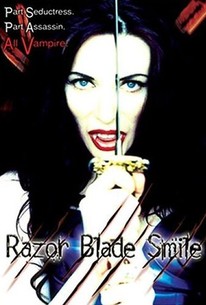 Movie Info
This British horror tale opens with a black-and-white prologue explaining how Lilith Silver became one of the undead. Switching to color and modern-day London, Lilith is a hit woman involved with the enigmatic Platinum. With deaths engineered by Sir Sethane, Scotland Yard detective Ray Price is soon investigating.
Critic Reviews for Razor Blade Smile
All Critics (6) | Fresh (0) | Rotten (6) | DVD (4)
West's cleverness gets the better of him in the final minutes, tacking on an arbitrary twist that, quite simply, trashes the trashy enjoyment of all that preceded.
Audience Reviews for Razor Blade Smile
½
This movie sucks so so so hard. It fucks everything up. It's embarrassing. The main character keeps saying things like "don't be so cliche" and "you know jack shit about vampires", while being the worst offender herself. Lilith Silver is an utterly unlikeable, shallow, egomaniacal vampire hitwoman with hilariously curved fangs and an all black latex wardrobe. She does everything wrong and spends all her time complaining, rolling her eyes and exposing her fangs and hissing. Her mouth must get really dry. I have no idea what this dumbass story is supposed to be about. Lilith finds out that all the recent targets of her clusterbungle assassinations have been members of the same evil club. Possibly the Illuminati, or something? Heehee, oh yeah! She likes to nail her hitwoman-handler-guy and they have long discussions about the current state of the contract killer industry during and after sex. There is a lot of fangs and hissing and pretty people. And guns. Way too many guns for a vampire movie. What is this, a really inept and brainless Underworld? You can actually see someone bump into the camera during a few shots.
Emily Armstrong
Super Reviewer
Believe it or not but this UK made film is most probably the genesis for major US films such as 'The Matrix' and many future sci-fi films and vampire films, especially 'Underworld'. The film is VERY low budget but shows the kind of imagery, cam angles and typical slow motion action that is now common place in all big films, the tight latex catsuit wearing hitwoman is certainly a much used idea these days. Director West does well with virtually no money and using his parents house haha there are some really nice sequences here which look much better than you might expect. Cast is also quite unique really with some cult figures included such as Adamson, Warbeck and of course Daly, wonder if they were paid anything? The film has some lovely hammy moments with some really delicious dialog, the obligitory sex scene for Daly, plenty of fangs and vampire hissing, a coffin full of weapons ('El Mariachi'?) and Adamson REALLY twisting the knob with his performance and facial expressions. In fact you can easily see an early Viktor from 'Underworld' with the character Adamson plays, almost a direct rip off infact, only Adamson is slightly more meaty than Nighy.
Phil Hubbs
Super Reviewer
½
No-budget independent Brit Vampire actioner. Mediocre all-round with cheapo effects, cheesy under par acting and some soft-porn erotica. A decent attempt considering the lack of budget though. Surprisingly it's gained a little cult following. I prefer the directors' other movie 'Evil Aliens' - much more fun!
Razor Blade Smile Quotes
There are no approved quotes yet for this movie.