RBG
(2018)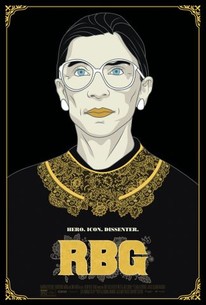 TOMATOMETER
AUDIENCE SCORE
Critic Consensus: RBG might be preaching to the choir of viewers who admire Supreme Court Justice Ruth Bader Ginsberg, but it does so effectively.
Movie Info
At the age of 84, U.S. Supreme Court Justice Ruth Bader Ginsburg has developed a breathtaking legal legacy while becoming an unexpected pop culture icon. But without a definitive Ginsburg biography, the unique personal journey of this diminutive, quiet warrior's rise to the nation's highest court has been largely unknown, even to some of her biggest fans - until now. RBG is a revelatory documentary exploring Ginsburg 's exceptional life and career from Betsy West and Julie Cohen, and co-produced by Storyville Films and CNN Films.
Audience Reviews for RBG
½
I can't help think that the information presented here is a bit stuffed together without that much fluidness from one topic to the next, but still this is a solid documentary about a truly remarkable woman who won't step down because she knows how important her fight is.
Carlos Magalhães
Super Reviewer
"I ask no favor for my sex. All I ask of our brethren is that they take their feet off our necks." - Sarah Grimkï¿ 1/2 (C)...and Ruth Bader Ginsburg's personal mantra. Going in knowing little to nothing about Ruth Bader Ginsburg and her historical rise to Supreme Court Justice, "RBG" is the biggest shot of adrenaline one might ever gain from a movie centered around an 84 year-old. From the opening scene in which Ginsburg, or the "Notorious RBG" as she's come to be known, is working out with her personal trainer it's clear the perpetually busy Supreme Court Justice is not one to be reckoned with. Further, this documentary doesn't simply capitalize on the recent wave of pop culture adoration though it obviously acknowledges it, but directors Julie Cohen and Betsy West dive into that of what made Ginsburg who she still is today and the multitude of cases that earned her a place not only as a Supreme Court Justice, but as the pioneer for women's rights and equal rights for all. It is a legal legacy that is worthy of the praise this documentary so happily heaps upon her. And yet, it is the small moments and truths that endear the audience to Ginsburg the most. From seeing RBG react to Kate McKinnon doing an impression of her on SNL for the first time to that of learning that at the ripe old age of 22 or so, when she was attending Harvard Law School, she also had a two year-old daughter, was caring for her husband who was going through radiation therapy due to cancer, handling her course load, as well as gathering all of her husband's coursework (who was also in law school) from friends so he wouldn't fall behind, and still somehow managing to make Harvard's law review that it becomes clear no matter if you agree with her opinions or stands on certain issues that it's hard not to acknowledge how truly special of an individual she is. Also, what a fantastic and eloquent writer the woman is.
Philip Price
Super Reviewer
A fine documentary, this show about the life and career of Justice Ruth Bader Ginsburg is also about developing the law, and through it a nation, intelligently and according to fairness, justice and principle. In their dealings with Ginsburg, leaders from both sides could find common ground; there is plenty of wit and humour. You see good for the future, in all of the young people and especially women, who are inspired and taught by Ginsburg's example, her advocacy in the Supreme Court, her majority judgments and her dissents. Ginsburg's legal achievements are told simply and clearly, her life story and marriage with touching emotion. Plus, she has excellent fashion sense, is a workout inspiration and right up to date with social media. Though Justice Ginsburg is described as having a retiring personal manner, when interviewed she gives fearless, razor-sharp observations and displays keen comic timing; she is sparing with words, and the film delivers these items sparingly. It would have benefited from some more: maybe that leaves a thirst. Every potential office-holder, say, all senior high school students - should have this item on their curriculum. For women, but not only women, aspiring in the law, but actually in any field, this is an excellent manual on leadership.
RBG Quotes
There are no approved quotes yet for this movie.