The Reader
(2008)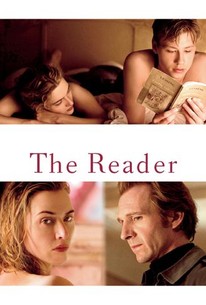 TOMATOMETER
AUDIENCE SCORE
Critic Consensus: Despite Kate Winslet's superb portrayal, The Reader suggests an emotionally distant, Oscar-baiting historical drama.
Movie Info
When he falls ill on his way home from school, 15 year-old Michael Berg is rescued by Hanna, a woman twice his age. The two begin an unexpected and passionate affair only for Hanna to suddenly and inexplicably disappear. Eight years later, Michael, now a young law student observing Nazi war trials, meets his former lover again, under very different circumstances. Hanna is on trial for a hideous crime, and as she refuses to defend herself, Michael gradually realizes his boyhood love may be guarding a secret she considers to be more shameful than murder.
News & Interviews for The Reader
Critic Reviews for The Reader
Audience Reviews for The Reader
There is a straight forward narrative process throughout this intelligent and engaging piece about the aftermath of the Holocaust, but the undercurrent, about how we ruin love by our incomprehensible desire to tell it what we want it to be, is a symphony of waste and regret for which we want to deny responsibility. Winslet got an Oscar for her intelligent portrayal of a simple girl.
Kevin M. Williams
Super Reviewer
½
"The Reader" is a response to post-Nazi Germany, and the ways in which people reconcile the past with their present. Even more disturbing is how the film, and the novel from which this is adapted, present the idea that the Nazis were people, with the same needs and morals as present day Germans. This idea is presented through the relationship between a teenager (Kross, Fiennes) and a train conductor (Winslet). The film doesn't argue that these inhuman actions are palatable once we understand the motivations of those who committed them, only that they really were people, not exactly misled in their decision making, but part of a movement that didn't have room for choice. I have read some critic's opinions that state that the film tries to purport that illiteracy, or even ignorance, is an excuse for evil. You can argue this point when looking at our lead character's struggle with this issue, but it's as easily assertible that this serves as a plot device to explain Michael Berg's guilt over the situation. This is not a love story, it's a story about compassion and how we look at the perpetrators of history. It's not only an interesting thought experiment, but a heartbreaking indictment of the callousness of humanity, and how we handle atrocities as a society.
Spencer S.
Super Reviewer
½
when one gets past the opportunist and pointless 30 minute long soft core porn sequence at the start of the film, the story picks up greatly and becomes slightly engaging. the problem was that this sort of film has a chance to truly inspire and only being slightly engaging isnt really good enough. its a good film without doubt, with solid acting and an interesting story line, but this film faces harsher judgement because of its acclaim and it doesnt hold up. easily the least deserving oscar nom of 2008, it is also not winslets best performance of this year as she was more involved in revolutionary road. she was still very good as she always is, but despite the fact that i really enjoyed this film i was disappointed following its press.
The Reader Quotes
| | |
| --- | --- |
| Hanna Schmitz: | It doesn`t matter what I feel. It doesn`t what I think. The dead are still dead. |
| | |
| --- | --- |
| Michael Berg: | I can't live without you. The thought of leaving you kills me. Do you love me? |
| | |
| --- | --- |
| Professor Rohl: | "If people like you don't learn from what happened to people like me, then what the hell is the point of anything?" |
| Professor Rohl: | If people like you don't learn from what happened to people like me, then what the hell is the point of anything? |
| | |
| --- | --- |
| Hanna Schmitz: | It doesn't matter what I feel. It doesn't matter what I think. The dead are still dead. |