Ready Player One
(2018)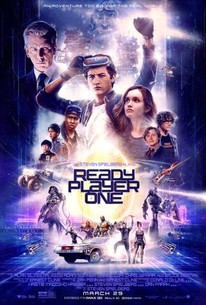 TOMATOMETER
AUDIENCE SCORE
Critic Consensus: Ready Player One is a sweetly nostalgic thrill ride that neatly encapsulates Spielberg's strengths while adding another solidly engrossing adventure to his filmography.
Movie Info
In the year 2045, people can escape their harsh reality in the OASIS, an immersive virtual world where you can go anywhere, do anything, be anyone-the only limits are your own imagination. OASIS creator James Halliday left his immense fortune and control of the Oasis to the winner of a contest designed to find a worthy heir. When unlikely hero Wade Watts conquers the first challenge of the reality-bending treasure hunt, he and his friends-known as the High Five-are hurled into a fantastical universe of discovery and danger to save the OASIS and their world.
Critic Reviews for Ready Player One
Audience Reviews for Ready Player One
Despite its annoying excess of exposition, this exciting retro-futuristic salad of pop-culture references from the 1980s and 1990s is a wonderful return to form for Spielberg, who makes this a blast for cinephiles and gamers while also offering a welcome anti-neoliberal message.
Carlos Magalhães
Super Reviewer
½
This movie has been on the books for quite some time, quite some time indeed. Hell rights to the novel (by Ernest Cline) had been won via auction before the novel had even been released! (novel released in 2010). Its another novel which I had heard of in part here and there, mainly due to its nostalgic content, but I've never felt inclined to read it or look into it. But this project really started to gather steam when Spielberg got onboard to direct; that's when most people sat up and took notice. The Plot: Yeah its generic, its you're typical 80's fantasy type plot line, but that is the whole point. Its the future of 2045 and almost everyone spends much of their time in a virtual world known as the Oasis. Its creator, the late James Halliday (Mark Rylance) put a contest inside his virtual world before he died. You must find three keys which will in turn unlock an easter egg. Whoever finds this easter egg will win ownership of the Oasis. With that we follow a teenager called Wade Watts (Tye Sheridan) and his various virtual friends as they try to discover the keys to unlock the easter egg whilst trying to avoid the clutches of the evil Innovative Online Industries (IOI) company with the same objective. OK so the absolute unadulterated lure or hook with this movie is of course the expansive collection of nostalgic characters, objects, vehicles, songs, toys, comics etc; all from a vast range of movies, books, anime, comics, and videogames. In short this movie uses and pays homage to popular pop culture from various decades spanning the 70's right through to the early 00's. This alone was enough to secure the interest of many people (myself included) who may have not been up to speed on the original novel. The mere thought of seeing so many classic characters crossover in one movie was enough to make any nerdy geek cum in his pants. But is that all this movie has?? It that the only shiny trinket that Spielberg can muster and dangle before you like some...shiny trinket, slathered in retro sauce. Well kinda...Essentially this movie sorta plays out like a [i]Where's Wally?[/i] for decades worth of pop culture. I constantly found myself merely looking out for various characters that I'd heard were in the film, characters that were rumoured to be in the film, or simply scouring each frame for hidden easter eggs. So much so that I pretty much forgot to pay much attention to the actual plot of the fecking movie. Now is this my fault? Well yes it is but alas the plot is so mundane and generic you really shouldn't worry about it. And that's the main problem here. In between looking for all your fave heroes and heroines from various franchises, in the background there is a rather boring plot revolving Wade Watts trying to find these three keys by decoding and deciphering various clues hidden within the Oasis. Yeah it is kinda dull to be honest, its even worse with the live action scenes that are not in the Oasis. But I do understand that aspect of it. The Oasis is supposed to be this realm people escape to for fun. The real world is obviously depressing, boring, difficult etc...So yeah I get that but it still didn't help me in liking this overall. Also didn't help that the real world in this movie looked weird. Like everyone was living in a giant junkyard or something, eh? Yeah poor I get it, but giant junkyards? What is this a tacky 90's videogame adaptation? Anyway Watts is assisted by some other players which all have their own avatars just as Watts does. These generally look like your standard videogame type creations. Big muscles, bionic body parts, tight outfits, and huge weapons. Said clues seemed almost impossible to fathom out in my opinion as all were personal to Halliday; and even with dipping into his personal files it still came across as utterly unbelievable that the protagonists managed to work them out. At the same time the entire notion that no one has ever managed to work anything out until Watts comes along is just too convenient for me. I know I just said they seemed hard to work out but surely someone could of done at least one. Its almost feels like Watts and his mates are the only people actually looking properly and even when they do uncover secrets still no one else manages it. This also leads me to some parts of the movie such as Watts winning the vehicle race after discovering a cheat. A cheat?? That kinda felt...well like cheating. I know its a hidden secret but again it also came across as so flippin' hard to uncover (because the clues seemed so obscure, to me at least) I still can't believe Watts even managed to find it. He got it from watching that archive video of Halliday...which apparently no one else has ever thought of ever doing. Kind of like 'The Shining' sequences (in the book it was 'Blade Runner') where yet again absolutely no one has apparently ventured or tried to uncover anything despite how suspiciously key laden that area might appear. Now whilst all this is going on there is the rather predictable and cliched evil company that is chasing after Watts and co, after the same prize. These guys generally exist to give the good guys something to eliminate in the videogame world during the movies set pieces. A never ending stream of avatars to take out at various stages. They are led by Nolan Sorrento (Ben Mendelsohn) who is (along with IOI) the most stereotypical corporate slimeball villain ever. He looks devious and untrustworthy and by golly he is devious and untrustworthy, in case you don't pick it up in the first five minutes. I also didn't get how IOI are able to imprison people and use them as virtual slaves in this reality; because it doesn't come across as particularly backwards in that sense outside of their walls. There are police and they do arrest Sorrento at the end so...how come IOI had this massive slavery thing going on? And I did have to giggle at the moment where Watts finally meets Halliday (dead?) and almost accidentally erases the entire Oasis because of a large red uncovered button. Like what the hell was that about? Was that supposed to be a joke because it came across as simply dumb. The first action sequence we get is the [i]Wacky Racers[/i] type event with all sorts of classic motors on display. Its a wickedly cool idea I'm sure many people have played out in their minds before but here is merely came across to me as a mass of indecipherable CGI. Again I was mainly too focused on trying to see what easter eggs lay in the background as the DeLorean DMC-12 thundered around the urban track (why didn't he just use the fly mode?). Twas certainly cool to see all these vehicles charging around (who remembers the Bigfoot monster truck??) but it was also [b]so[/b] chaotic it was hard to follow. Naturally things got even more chaotic and CGI laden when we reached the big final showdown between IOI and a legion of Oasis gamers. Holly Spectrum talk about a retro clash of the titans. If you ever wanted to see [i]The Iron Giant[/i] take on various other franchise characters such as [i]MechaGodzilla[/i] or [i]Gundam[/i], well I guess its your birthday. But in all honesty, is that all this is??? Just a middle aged retro collectors wet dream of seeing all his shelf 'collectables' (toys) fighting each other in a massive cinematic version of a sprawling videogame beat 'em up ([i]Marvel vs. Capcom[/i]). Yes it all looks great and yes it is very cool to see all these different characters and franchises clash and mix but I just can't get past that aspect of it. That is [b]literally[/b] all there is to this movie because the rest is boring as hell. And are you telling me that this virtual world would have a power-up/pick-up weapon that could effectively kill every single player in the entire virtual world wiping their records?? Why would that be included?? Why??!! Surely that just screams problems. Essentially this is a love letter of sorts to various decades gone by, but mainly the 80's. Its probably the closest I will ever come to one movie encompassing everything I have grown up with to this point. A cinematic archive of pop culture I (and many others) have slowly grown old with since my birth back in 1978. I appreciate it, I appreciate everything about this movie and I must thank all involved for bringing it to the big screen. But nevertheless the film was ultimately a bit of an anti-climax for me. It seemed to promise so much but in my eyes failed to deliver overall. What is there left for me to say? Well at least, thanks for the memories. (The Zemeckis Cube: Essentially a Rubix Cube allowing time travel. When activated a few musical notes from 'Back to the Future' play. A mishap of retro knowledge in 2045, but oh so cool)
Phil Hubbs
Super Reviewer
½
A decent outreach of the old tech to the up-and-coming ones, much as television once eclipsed movies, this is a scenario that imagines a future wherein people of mostly dire financial straits spend their time online in a fantastic inner/internet world. There's some take-over-the-world bad guy distraction, of course, but most of the tale involves where its imagined coming tech will take us. To spice things up there are only a million and one tips-of-the-hat to well known cultural icons and recognizing them becomes part of this experience: can you catch them all? Underneath all the shiny stuff is Spielburg, natch.
Kevin M. Williams
Super Reviewer
Ready Player One Quotes
There are no approved quotes yet for this movie.