Ready to Rumble
(2000)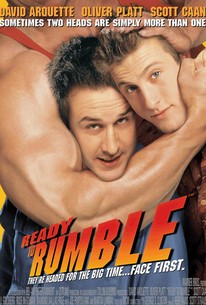 Movie Info
Wrestling champion Jimmy King is everything die-hard wrestling fans Gordie Boggs and Sean Dawkins would love to be. A dreamer, an athlete, a true champion - with his crown, cape and scepter, he is a giant in his profession. Other wrestlers can only tremble in fear of his deadly finishing move, "The Crown" - a two-handed flying slap. Gordie and Sean live at home, have dead end jobs and no girlfriends, but none of that matters on Friday night when they at last get to see their idol live and in person at the local WCW coliseum. But as the lights swirl and the Nitro girls dance, something goes horribly wrong for the King. He is ambushed by a ring-full of hostile turn-coats. At the match's shocking end, Jimmy King takes a mighty, career-ending fall. Heartbroken and in shock, Gordie and Sean nonetheless decide to embark on an odyssey of discovery to root out their fallen hero. In space fourteen of the St. Francis Motor Court, they come face to face with a drunken, bitter Jimmy King, a phony with a made-up past whose inspirational phrases were scripted. But Gordie and Sean will not be discouraged. Beneath the beer gut and grizzle, they still see glimpses of their hero and vow to do whatever it takes to restore their King to his throne, no matter how many rules - or bones - get broken in the process.
Critic Reviews for Ready to Rumble
Audience Reviews for Ready to Rumble
As World Championship Wrestling (WCW) was going bankrupt, they needed to come up with other ways of earning money, and decided to jump into the film business. Little did they know that within two years, they'd be out of business and their rival, World Wrestling Entertainment (WWE), would pick up their idea and turn it into a billion dollar industry. Ready To Rumble features two life long wrestling fans, intent on restoring their favorite wrestler, The King (Oliver Platt), back to his former glory. Against all odds, they inspire The King to get back in shape, and compete for one last chance at glory. It's hard to remember through all the intense action and dangerous moves, that professional wrestlers are actually actors, who need to learn a script and play a character, on a weekly basis, so why not put them in movies. It has worked out very well for WWE Films, which has produced some great films, including; The Marine, 12 Rounds, and The Call, but what about WCW's only foray into the movie business? David Arquette was the perfect choice to play this wacky wrestling freak, and he actually had great chemistry with everyone involved. The story told in Ready To Rumble may lack the vulgarity and insanity that has become associated with most modern comedies, but it was certainly something different and did have it's movements of hilarity.
Todd Smith
Super Reviewer
½
Oh, I still know who consider ready to Rumble to be a big time flop, but i still recognize it as an underground, cult classic. it isn't always funny, but It's ending, and Wrestling scenes are very entertaining. This film was average in it's humor, but I still enjoyed more than I thought. Most hated the Unfunny jokes, and stupid plot points, but everything else is pretty good. It is worth a watch atleast if you like Wrestling, Or Comedies.
Joseph Eastmond
Super Reviewer
Being a wrestling fan it's hard not to like this movie. It has some of the dumbest dialogue that I have ever heard or seen in a movie - yet it's funny and fun to watch. I would tell any wrestling fan to watch this movie. If your not a wrestling fan - you may find it pointless, but for me, it was golden.
Bobby Hobbs
Super Reviewer
Ready to Rumble Quotes
| | |
| --- | --- |
| Sting: | "Jimmy King's alright by me." |
| Sting: | Jimmy King's alright by me. |
| Sean Dawkins: | "...You love Jimmy King. I love Jimmy King. We're men, and we're not afraid to say that we love other men...I love you." |
| Sean Dawkins: | You love Jimmy King. I love Jimmy King. We're men, and we're not afraid to say that we love other men...I love you. |
| Sting: | *Punches out Sean.* |
| Sting: | [Punches out Sean] |
| Gordie Boggs: | "Me too, man...hit me...hit me...MY TURN!" |
| Gordie Boggs: | Me too, man...hit me...hit me...MY TURN! |
| Sting: | *Punches out Gordie* |
| Sting: | [Punches out Gordie] |