Real Steel
(2011)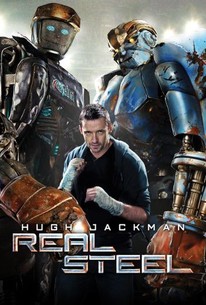 TOMATOMETER
AUDIENCE SCORE
Critic Consensus: Silly premise notwithstanding, this is a well-made Hollywood movie: Thrilling and exciting action with just enough characterization.
Movie Info
A gritty, white-knuckle, action ride set in the near-future where the sport of boxing has gone high-tech, Real Steel stars Hugh Jackman as Charlie Kenton, a washed-up fighter who lost his chance at a title when 2000-pound, 8-foot-tall steel robots took over the ring. Now nothing but a small-time promoter, Charlie earns just enough money piecing together low-end bots from scrap metal to get from one underground boxing venue to the next. When Charlie hits rock bottom, he reluctantly teams up with his estranged son Max (Dakota Goyo) to build and train a championship contender. As the stakes in the brutal, no-holds-barred arena are raised, Charlie and Max, against all odds, get one last shot at a comeback. -- (C) Dreamworks
News & Interviews for Real Steel
Critic Reviews for Real Steel
Audience Reviews for Real Steel
½
Wow, all I can say is wow. I've been interested in this film since day one of hearing about it, because who doesn't love a movie about robots beating the crap out of each other? Hugh Jackman does an incredible job as the main character, and I actually think that this is his best performance, I liked him as Wolverine in the X-men movies, but this is his best role to me, also the other characters do great jobs, specifically the little boy. The funny thing about this movie is that the roles seem somewhat reversed in this film, where its the boy that acts a lot more like an adult than Hugh Jackman does, He does act like an adult, but the kid acts like someone that literally manages a boxer in real life, talking like an announcer or freaking out when he is losing. One of the things I think they pulled off very well in this film is the robot effects , the effects are just incredible in this film, you really feel the hits whenever the robots fight and are being pinned, and when one wins you feel really hyped and excited, and you really feel for the main robot, for having no dialogue, the character really pulls off a lot, much like Toothless in How to Train your Dragon, you can tell what this character feels just by looking at him. The other thing they pulled off very well in this film is the story, basically this film is the movie Rocky but with robots, but it is so much better than the film rocky, to the point where in one scene where they are analyzing boxer movements, they're watching Rocky 2 on the computer screen, and they even quote the Russian dude from Rocky 4 "whatever he sees he destroys" its literally word for word the same line, and even the evil girl is Russian. Also the music in this film is incredibly well pulled off, and is very exciting and adrenaline pumping to listen to during the fights, though it could've used some AC/DC. Overall this film is emotional, action packed, is well acted, has great effects, and has a great story, and is one of the best films I've seen all year. My final Rating 4 1/2*s out of 5
Michael Edwards
Super Reviewer
A Hugh Jackman star vehicle, basically a Disney-fied Rocky done with robots. You'll see everything coming from a mile away, or at least you won't miss anything when you go to the fridge for Jello squares. The most interesting bit is how it's only implied that the robots might have an actual self awareness w/o ever actually going there.
Kevin M. Williams
Super Reviewer
It's a Rocky-with-Robots underdog story that's vivid. Real Steel's emphatic concept, stunning visuals make up for the somewhat-cheesy-inspirational aspect. The film is enough to go the distance and have audiences invested. 4/5
Eugene Bernabe
Super Reviewer
Real Steel Quotes
| | |
| --- | --- |
| Charlie: | "Fight smart, be patient and pray." |
| Charlie: | Fight smart, be patient and pray. |
| | |
| --- | --- |
| Charlie: | How old are you? Nine? Ten? |
| Max: | I'm eleven. |
| Charlie: | Okay... are you sure? |
| Max: | Yes. I'm sure I'm eleven. |
| | |
| --- | --- |
| Max: | I want you to fight for me! |
| | |
| --- | --- |
| Max: | Now you're concerned for Aunt Debrah? You sold me for 50 grand! |