Reality Bites
(1993)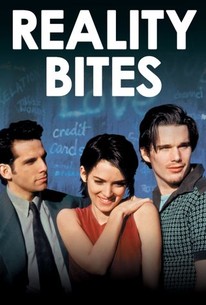 TOMATOMETER
AUDIENCE SCORE
Critic Consensus: Reality Bites may be too slick to fulfill its promise as a profound statement on Generation X, but an appealing ensemble and romantic sizzle make for an entertaining dive into the ennui of youth.
Movie Info
Four recent graduates discover how difficult it is to find a decent job and true love after college.
Critic Reviews for Reality Bites
Audience Reviews for Reality Bites
A movie I have seen several times over the years, including when it first came out at the cinema. While it's not perfect, and not an absolute favourite, I do enjoy it. Particularly Winona Ryder and Janeane Garofolo. Vicky, in particular was a very good character. I love her look and quirky personality. I do find Ethan Hawke's Troy an absolute twat, and that has only increased over the years. I can't believe he's the supposed hot guy you are meant to feel for. A womanising, chain smoking slacker. Mmm. Does it for me. Ben Stiller's character is a bit too yuppie to really cheer on, but he's preferable to Troy. Quite nostalgic 90's viewing and some good music on the soundtrack including Juliana Hatfield.
Nicki Marie
Super Reviewer
Troy Dyer: You can't navigate me. I may do mean things, and I may hurt you, and I may run away without your permission, and you may hate me forever, and I know that scares the living shit outta you 'cause you know I'm the only real thing you got.  "A Comedy About Love In The 90's" I didn't really know what I was getting myself into with Reality Bites, plot wise. I just saw that it was comedy directed by Ben Stiller, that had an excellent cast including: Winona Ryder, Ethan Hawke and Steve Zahn; and that was enough for me. I can't sit here and say that Reality Bites is as important a film as it seems everybody involved thought it was. Basically, it's a lot like Linklater's Suburbia. It's all about a quartet of friends getting out of college and realizing that the world may not actually be their oyster. The real world isn't the walk in the park they thought it would be. No, they will have to deal with people that are hard to work with. They will have to put up with shit, just so they can pay the rent. And they'll have to do it all by themselves. As a character in the movie says, "The world doesn't owe you any favors." I'm sure Stiller would love to think that this film is anything more than a romantic comedy, but at the heart, that's all it is. But don't be too bummed that your film didn't quite make it the extra mile you wanted it to, because you still have a highly enjoyable and pretty well made Romantic Dramedy.  Four friends are now out of college and living together. One works at the GAP, one works as a helping hand on a tv show, one is gay, and one is a genius, that is too smart to actually make a difference in the world. There's a lot of dialogue about their concerns on life, on what to do, and on who to love or how to love. The best part of this movie happens to be Ethan Hawke as Troy. This might possibly be the best performance I've ever seen from Hawke. He isn't one of my favorite actors out there, but I think he is a highly underrated actor. His character is one of the love interests of Winona Ryder's character. They've been friends for years, and could always talk to each other, but under the surface, there is something more between them. Overall, there's really nothing wrong with Reality Bites, except that maybe was trying to be more than it really is. But what it is, is good enough. 
Melvin White
Super Reviewer
½
Not having seen this when it first came out and not having really lived through the early '90s, I still find this movie remarkably dated. Perhaps it's the grunge costumes or "The Real World"-esque yuppie ennui. There is some moving dialogue though: Troy: Besides, everyone dies all by himself. Michael: If you really believe that, who are you looking for out here?
Alice Shen
Super Reviewer
Reality Bites Quotes
| | |
| --- | --- |
| Troy Dyer: | Honey, all you have to be by the time you're 23 is yourself. |
| | |
| --- | --- |
| Troy Dyer: | You see Lainy, this is all we need. A couple smokes, a cup of coffee, and a little bit of conversation. You and me and five bucks. |
| | |
| --- | --- |
| Lelaina Pierce: | I just don't know why things can't go back to normal at the end of the half hour, like on Brady Bunch or something. |
| Troy Dyer: | Because Mr. Brady died of AIDS. |
| | |
| --- | --- |
| Troy Dyer: | There's no secret handshake. There's an IQ prerequisite, but there's no secret handshake. |