Reap the Wild Wind
(1942)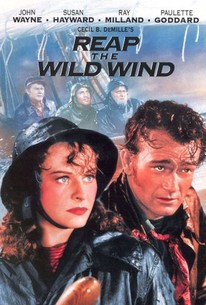 Reap the Wild Wind Photos
Movie Info
Cecil B. DeMille's Technicolor historical spectacle Reap the Wild Wind was to have starred Gary Cooper, but Cooper's prior commitment to Goldwyn's Pride of the Yankees compelled DeMille to recast the leading role with John Wayne. The film, set in the mid-19th century, centers around Key West, Florida, where piracy reigns unchecked and steam engines are beginning to replace tall ships. Jack Stuart (Wayne) is a sea captain who crashes his vessel on the shoals of Key West. Loxi Claiborne (Paulette Goddard), the hoydenish manager of a salvage firm, arrives on the scene, but discovers that her rival in the salvage business, King Cutler (Raymond Massey) has reached Wayne first and lashed him to the mast, and is proceeding to ransack the ship with the aid of his partner-in-crime, younger brother Dan Cutler (Robert Preston). The Cutlers have built up quite a reputation for reaching wrecks ahead of competitors - to such a degree that some suspect them of making under-the-table deals with dishonest captains. While the men continue to ransack the ship, Loxi nurses Jack back to health, and the two fall in love; meanwhile, Jack worries openly that he'll lose the privilege of piloting his company's newest steamship. To ensure that this doesn't happen, Loxi offers to travel to Charleston, South Carolina and convince investigators that pirates were responsible for what happened to Jack. Subsequently, the company attorney, Stephen Tolliver (Ray Milland) must go to Florida with Jack's commission papers, and investigate the circumstances of the incident prior to givng the papers to the captain. In the process, Jack and Stephen become intense rivals for Loxi's affections. ~ Hal Erickson, Rovi
Critic Reviews for Reap the Wild Wind
Audience Reviews for Reap the Wild Wind
I haven't watched many John Wayne films on DVD, mostly growing up and seeing them on TV, So this is a first. I don't think that the Duke was the main actor in this movie, think Ray Miland was Billed as Top Actor, but as The Duke rose to stardom, I think things changed. This is a Technicolor classic, and I still say that Technicolor was way ahead of its time and looks so much brighter then anything we have today. John Wayne plays Captain Jack Stuart pretty much a washed up ships captain because of sabotage within his own crew, but he falls in love with Susan Hayward who brings out the best in any man. A true Sea worthy adventure. Good classic to add to the collection, but only 3 stars.
Bruce Bruce
Super Reviewer
Florid, over the top De Mille epic, is there any other kind? The technicolor is vivid, the costumes are beautiful and the acting is enjoyably over the top, with the exception of Susan Hayward who, honey chile accent notwithstanding, gives a sweet, real performance amongst all the scenery chewing.
Reap the Wild Wind Quotes
There are no approved quotes yet for this movie.