The Reaping
(2007)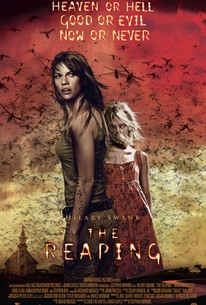 TOMATOMETER
AUDIENCE SCORE
Critic Consensus: It may feature such accomplished actors as Hilary Swank and Stephen Rea, but The Reaping also boasts the apropos tagline "What hath God wrought?" It's schlocky, spiritually shallow, and scare-free.
Movie Info
A former Christian missionary, who lost her faith after her family was tragically killed, has since become a world renowned expert in disproving religious phenomena. But, when she investigates a small Louisiana town that is suffering from what appear to be the Biblical plagues, she realizes that science cannot explain what is happening, and she must regain her faith to combat the dark forces threatening the community.
News & Interviews for The Reaping
Critic Reviews for The Reaping
Audience Reviews for The Reaping
Katherine Winter: Ten plagues. Ten scientific explanations.  "What Hath God Wrought?" The Reaping is ass. It falls under the trap of what kills every bad horror film. It is predictable. There shouldn't be a one of us that can't see the "twist" coming. This is a terrible movie, but it really shouldn't have been. It had everything set up perfect to be a cool and unique film. It had a good premise, a solid lead, and amazing visuals. Weak directing and even weaker writing ultimately killed this shit fest.  Katherine is a born again atheist. She used to be a missionary, but when she lost her daughter, she went to the dark side. Hmm... very original. Now she specializes in the debunking of "miracles." She is always able to find the scientific explanation behind every single "miracle" people proclaim. She gets an invite to come take a look at a river that has turned red. That is the first plague. The people of this town are all God crazy and think a little girl is behind everything. Katherine comes in to give them a logical explanation for everything going on. But can she? In the end, this movie is nothing more than a waste. A waste of a good idea. A waste of Hillary Swank. But worst of all, a waste of my time. I always have trouble liking Religious Horror films. There's occasionally a good one, like The Exorcist, but for the most part, it is a garbage sub genre. I can't recommend not watching this though because Hillary Swank is Hillary Swank and she's always worth watching. Plus there is a locus scene that almost makes up for all the crap you have to wade through to get there. Just know that you're getting yourself into a truly terrible film.
Melvin White
Super Reviewer
Good acting cannot lift this typical eerie goth horror outing as science lady (she blinded me with science sexy Hillary Swank!) meets Biblical plagues down in godforsaken "you goin' to hellfire sure and damnation Yankee liberals, doncha even believe in THE damned BIBLE, don't you?" swamp country.
Kevin M. Williams
Super Reviewer
It's not a bad movie and is certainly not as "god" awful as everyone says it is. We can all agree that Hilary Swank performed enthusiastically to pull The Reaping out of it's apparant pit. The truth is there is no pit for the film to be pulled out of. It's full of exciting twists and turns and maintains a mysterious atmosphere. Its not terrifying, but its cool and its interesting.
Directors Cat
Super Reviewer
The Reaping Quotes
| | |
| --- | --- |
| Katherine Winter: | What? No! |
| | |
| --- | --- |
| Katherine Winter: | (talking to Maddie about her daughter Loren) I'm just tryin' to help her. |
| Katherine Winter: | I'm just tryin' to help her. |
| | |
| --- | --- |
| Loren McConell: | What about the boy?. |
| Katherine Winter: | What boy?. |
| Loren McConell: | The boy inside you. We gotta take care of him too!. |
| Loren McConell: | The boy inside you. We gotta take care of him too! |