Reasonable Doubt
(2014)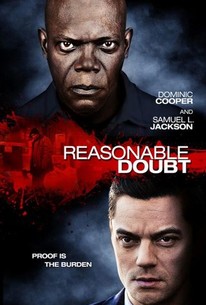 Movie Info
When up-and-coming District Attorney Mitch Brockden (Cooper) commits a fatal hit-and-run, he feels compelled to manipulate the case to acquit the accused criminal who was found with the body and blamed for the crime. Following the trial, Mitch's worst fears come true when he realizes that his actions freed a guilty man, and he soon finds himself on the hunt for the killer before more victims pile up. (c) Lionsgate
News & Interviews for Reasonable Doubt
Critic Reviews for Reasonable Doubt
Audience Reviews for Reasonable Doubt
I must remember to check RT before watching everything on Netflix. This film is a dull and pointless exercise, Jackson obviously made this for some cash. The director doesn't do anything interesting with the concept and the actors are sleepwalking through a 80s film script. The film is much to predictable and the seriousness is laughable at times. This is another example of why the mid to low range thrillers struggle to do well, crappy films like this. Good trailer, bad film. 15-05-2017.
Brendan O'Connor
Super Reviewer
Howard Stark and Nick Fury face off in a movie with some modicum of originality. Not a lot, but some, and that's enough to make it watchable.
½
Proof is the burden. Medriocre movie! Welcome to the world of Canadian Movies buddy. Great actors just going through the motions,bad editing,bad continuity,bad cinematography. At first this movie had a little tension but as time rolled on it started to become far fetched. Year after year these generic thrillers keep getting made even though they offer nothing refreshing or new to the genre. While the film itself is merely mediocre, it still baffles me why writers and directors feel the need to wrap their films up in a nice neat package. It is not only disrespectful to the audience but it does an injustice to the subject theme. Up-and-coming District Attorney, Mitch Brockton is involved in a fatal hit-and-run, but Clinton Davis, is found with the body and charged with murder. Believing that Davis is innocent, Brockton is compelled to throw the trial. Soon after, Brocton's perfect life begins to unravel as he realizes that the man he set free is hiding a secret that will destroy him.
Reasonable Doubt Quotes
There are no approved quotes yet for this movie.