ReBoot: Daemon Rising
(2001)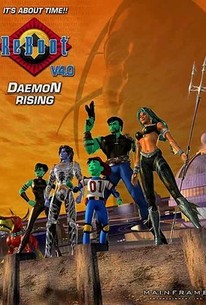 AUDIENCE SCORE
Critic Consensus: No consensus yet.
Movie Info
Looks like Bob and his fellow computer Sprites may have finally met their match. Supervirus Daemon is spreading her infection throughout the entire Net and edging ever closer to the City of Mainframe. Bob joins forces with old enemies in an attempt to foil her destruction of Mainframe and must reach into the past to find the answer.
Critic Reviews for ReBoot: Daemon Rising
There are no critic reviews yet for ReBoot: Daemon Rising. Keep checking Rotten Tomatoes for updates!
Audience Reviews for ReBoot: Daemon Rising
ReBoot was one of the best shows ever produced. The first season took some time to get going, but it was the second season, and that epic finale that really announced the arrival of this show. The fourth season was actually two movies. This is the first. The characters from the show must now battle a new virus after finally taking care of Megabyte. Daemon, whose existence was hinted at during the third season, is no Megabyte. The villains of ReBoot were the real stars. They were complex, each one given detailed relationships with the heroes. They would often join with the heroes when need be. Daemon may not be as likable, but she is just as interesting. Her plans to unite the world coming off as slightly admirable. In a wonderful twist Hexadecimal is somewhat good, she is still untrustworthy and a loose cannon, but this is her time to shine. The animation is the same quality as the previous series and the vocal talent is simply amazing. Make sure you have your pop culture reference hat on for some great background gags, and the twist ending is confusing in a good way. It makes me want to watch the next ReBoot movie, which I will do...
Luke Baldock
Super Reviewer
ReBoot: Daemon Rising Quotes
There are no approved quotes yet for this movie.