[Rec] 2
(2010)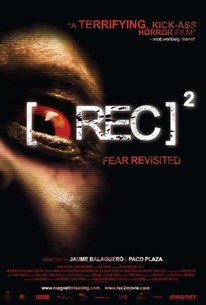 TOMATOMETER
AUDIENCE SCORE
Critic Consensus: It lacks the surprising jolt of the first installment, but [REC] 2 almost maintains the original's chilling momentum -- and proves not all horror sequels were made equal.
Movie Info
The highly anticipated sequel to one of the scariest films of all time, "[REC] 2" picks up 15 minutes from where we left off, taking us back into the quarantined apartment building where a terrifying virus has run rampant, turning the occupants into mindlessly violent, raging beasts. A heavily armed SWAT team and a mysterious government official are sent in to assess and attempt to neutralize the situation. What they find inside lies beyond the scope of medical science -- a demonic nightmare of biblical proportions more terrifying than they could have possibly imagined. Above all it must be contained, before it escapes to wreak havoc on the unsuspecting world outside.
News & Interviews for [Rec] 2
Critic Reviews for [Rec] 2
Audience Reviews for [Rec] 2
½
Not only far from being as terrifying as the original film, this sequel also makes the mistake of offering an explanation for the story, combining zombies, viruses and demons all in the same crazy pot. But even so, there are a few moments that work.
Carlos Magalhães
Super Reviewer
[Rec] 2 is awesome! It picks up literally right after [Rec] left off. The focus is on a SWAT team going into the apartment to help an official get what he needs to end the quarantine, as well as rescue any survivors. The original [Rec] left us with the notion that the virus was started because of occult practices. In [Rec] 2, that idea is played on in great detail. The action feels bigger as well. Instead of one camera, each SWAT member is equipped with a camera on their helmet, and the action cuts in between them. This is a brilliant decision, because it allows the film to feel bigger while keeping the concept the same. Loose ends from the first are tied up as well. We find out what happened to the journalist from the first film, and we get to see the origin of Medeiros' powers. [Rec] 2 is the sequel that does justice to [Rec] while taking the series in a whole new direction. No small feat, since I consider [Rec] to be one of the best horror films ever made! [Rec] 2 is filled with suspense, and some of the scariest scenes I've seen in a long time.
Edward Boxler
Super Reviewer
I hated the direction this movie went. In REC it was supposed to be an infection right? Like rabies? Then they go in a completely different direction off course and start with something about a demonic possession. I didn't like it at all. It wasn't even that scary and it had too many plot holes to take seriously. It was nothing like the original REC and I thought it was really stupid. Especially the whole thing with the priest and the little girl who was allegedly possessed. Really stupid plot. I thought they were going to tie up loose ends from the first film, but instead they created a bigger mess for the audience to figure out. REC didn't even need a sequel anyway.
[Rec] 2 Quotes
There are no approved quotes yet for this movie.