Red 2
(2013)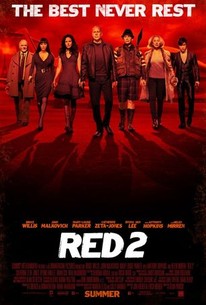 TOMATOMETER
AUDIENCE SCORE
Critic Consensus: While it's still hard to argue with its impeccable cast or the fun they often seem to be having, Red 2 replaces much of the goofy fun of its predecessor with empty, over-the-top bombast.
Movie Info
In RED 2, the high-octane action-comedy sequel to the worldwide sleeper hit, retired black-ops CIA agent Frank Moses reunites his unlikely team of elite operatives for a global quest to track down a missing portable nuclear device. To succeed, they'll need to survive an army of relentless assassins, ruthless terrorists and power-crazed government officials, all eager to get their hands on the next-generation weapon. The mission takes Frank and his motley crew to Paris, London and Moscow. Outgunned and outmanned, they have only their cunning wits, their old-school skills, and each other to rely on as they try to save the world-and stay alive in the process. (c) Summit
News & Interviews for Red 2
Audience Reviews for Red 2
This was a very enjoyable film. The story continues with the retired - and more dangerous than anybody else - agents. Frank and his comrades find themselves treading all over the globe and finding conflict at each stop. If you haven't seen the first film, you can still enjoy this piece. You won't understand all of the relationships immediately, but the story stands on its own. And it does a very good job at that. The movie was so much fun. It had clever and well-thought out jokes throughout the film. The jokes kept coming and were very skillfully timed. The action was thrilling. Along with the jokes, non-stop action to get your blood pumping filled this film. They kept the same feel of cool, unreasonable stunts and explosions from the first movie, but they also added a lot more hand-to-hand combat, which was still very amusing to watch and excellently choreographed. The acting was great and the story was well-written with actual twists. The soundtrack and sound effects made all the guns and explosions that much more convincing and enjoyable. This film had a much higher body count than the last one, but still managed to keep it pretty light-hearted. If you liked the first one, this film will not disappoint. If you haven't seen the first one it's still very entertaining to watch. 4 Stars 3-23-14
Bruce Bruce
Super Reviewer
½
Since its ridiculous nominee as 'Best Musical or Comedy Movie of the Year' in the Golden Globes, I think 'Red 2' has quite improving by attracted such another great cast such as Anthony Hopkins, Catherine Zeta-Jones, and a lovely performance from Lee Byung-hun.. But still, the important thing from this movie is not only Helen Mirren can shoot but so do Mary-Louise Parker! Well, I just hope they still considering making this franchise into a trilogy since I expecting another surprise, well I'm just joking..
Sanjaya 丘耀文
Super Reviewer
½
In my review of Taken, I spoke about two growing trends in mainstream filmmaking: "older protagonists as a reaction to a market saturated with youth, and weighty actors downsizing into trashy B-movies." The Expendables series and Liam Neeson's recent output find some of the most beloved actors of their period taking on roles that would have once been filled by people half their age and a quarter as talented. Into this market driven by nostalgia and the need for pension plans comes Red 2, a sequel to one of the more slow-burning hits of 2010. Reuniting the original cast with a couple of new faces, it aims to bring a more overtly comic-book feel to a sub-genre built around nuts-and-bolts action thriller plots. The result is a little disappointing, not to say a little dull, but it's not without a few good moments. As much as I objected to Taken, on grounds both structural and moral, I fully acknowledge the appeal of seeing older action stars - nay, just older actors - on screen in prominent, active and entertaining roles. Because so much of mainstream cinema is shaped around the demands of teenage boys, the range of roles available to actors becomes more restricted as they age. Unless you want to carve out a career playing Basil Exposition or people's grandparents, you're pretty much dead in the water by the age of 50. A good benchmark from this perspective would be the films of Nigel Cole, such as Saving Grace and Calendar Girls. Both of these films are driven by older characters, who conform to some generic conventions but still feel like real people. While neither of these films are the most disciplined or structurally sound, they tell interesting stories which charm us and lead us to forgive or overlook their shortcomings. While Cole's output wins outright in a fight over well-written female characters, Red 2 does have as much going for it behind the camera. Dean Parisot's output has been uneven, but he did helm the highly entertaining Galaxy Quest, once described by J. J. Abrams as "one of the best Star Trek movies ever made". Alan Silvestri, the film's composer, has a great record with Robert Zemeckis and more recently with Marvel. And the film is shot by Enrique Chediak, who did a really good job on 127 Hours and 28 Weeks Later. Sadly, for all this build-up, none of the talent involved in Red 2 comes close to matching their reputations, on either side of the camera. Whatever the merits of its predecessor, this film is ultimately rather lacklustre in both its story and execution. While it's assembled in a workable enough manner to pass a couple of hours, it is in the end pretty forgettable fare, and considering who is involved that is the last thing that it should be. Part of the problem lies in the attitudes of the cast. Todd Gilcrist wrote in his review that Bruce Willis "seems unmotivated to smile at all, much less offer a series of emotions that constitute a believable or compelling performance." While you may not agree with Gilcrist word for word, he does hit the nail on the head: none of the actors look like they're having fun. That wouldn't be a problem if the film were a sombre, depressing existential parable, but it is a problem when you're trying to make an upbeat action thriller with lots of jokes. Much like Sean Connery, Willis is an actor who clearly betrays when he does and doesn't want to be in a given film. When he's confident in a script or having a blast on set, such as in Die Hard, Twelve Monkeys or Looper, he holds himself much more precisely and seems far more natural in his movements. When he's doing something purely because he needs the money, he slumps his shoulders, narrows his eyes and is much less responsive to his fellow actors. While this is by no means his worst performance, let alone his worst film, it does give off vibes of him only doing the part because he has to be that. It's not just Willis that seemingly doesn't want to be involved. John Malkovich has been tetchy and irritable in other films (such as Shadow of the Vampire), but there's a weariness to his performance here which doesn't gel with the character's dynamic dialogue. Helen Mirren doesn't get a greal deal to do, and her attempts at deadpan humour just come across as flat readings. The only main actor who commits and engages to the required level is Byung-hun Lee, and his character seems to have escaped from a far better, far more interesting film. The plot of Red 2 is decidedly episodic. Much of the film is built around set-pieces, either involving Lee's character wanting revenge on Willis or a third party becoming the target of either side. The set-pieces are technically accomplished, with good pyrotechnics, decent CGI and some realistic sound design, but there's not enough of any substance to link them together in a meaningful manner. To borrow from Shakespeare, it's a lot of sound and fury, signifying very little. In slightly different hands, this could have been handled better. The red mercury buried beneath the Kremlin is a neat little plot device, and Brian Cox and Anthony Hopkins do wring the most they can out of their supporting roles, channeling the more thoughtful, more British spies present in The Ipcress File. All the little twists involving people changing sides which could have been used to drive the film are instead presented like the action sequences - as distractions, and nothing more. The same goes for the romantic subplot-cum-love triangle that the script tries to tease out. There is potential (albeit well-worn potential) in both the female characters' main conceits, i.e. the inept love interest who finds herself caught up in events, and the old flame who puts the cat among the pigeons. But while Catherine Zeta-Jones takes to her costume well, it's ultimately a lot of under-developed flash, and Mary-Louise Parker isn't all that convincing. In the midst of all this, it is more than possible to enjoy Red 2 as empty, disposable spectacle. It's clearly not trying (and failing) to make a lot of important political points, and its lack of pretension is to be applauded as much as its lack of ambition should be decried. If you only go to the cinema to see explosions, car crashes and famous people in various slow-motion poses, this will satisfy your appetite. Red 2 is a disappointing action thriller which finds both cast and director falling short of their past potential. While the action is technically sound and there are a few witty or impressive moments (mainly involving Lee's character), it's ultimately too lackadaisical and episodic to cut the mustard. In the end it's not a bad film per se, just an aimless one which could have been a lot better with a tighter script and a stronger hand at the helm.
Daniel Mumby
Super Reviewer
Red 2 Quotes
| | |
| --- | --- |
| Marvin Boggs: | Kids, what happens in the Kremlin stays in the Kremlin. |
| | |
| --- | --- |
| The Frog: | Why don't terrorists ever appreciate burgundy? |
| | |
| --- | --- |
| Frank Moses: | You gave her a gun? |
| Marvin Boggs: | It is America, Frank! |
| | |
| --- | --- |
| Marvin Boggs: | "If there's one thing I know, it's women and covert ops." |
| Frank Moses: | "That's two things." |
| Han Cho Bai: | "No, Grasshopper, it is not." |