The Red Badge of Courage
(1951)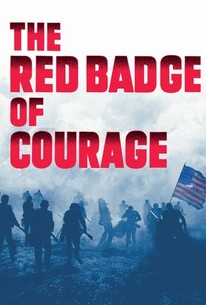 The Red Badge of Courage Photos
Movie Info
In this film, based on Stephen Crane's novel, Audie Murphy stars as a Civil War soldier who must redeem himself after an act of cowardice. When he gets his opportunity, he is no less frightened than before; he simply has learned to push on in spite of that fear.
Critic Reviews for The Red Badge of Courage
Audience Reviews for The Red Badge of Courage
Audie Murphy and John Huston team up for this spectacular look at the power of the group over the individual. It's wartime, and a newbie recruit frets on whether he will perform to group expectation or not when battle time arrives. It's all easier said than done, eh? Huston, obviously influenced by Hemingway, keeps the anxiety quietly amped up throughout the effort but particularly during the battles scenes. Why has no one told me of this exemplary work before?!?
Kevin M. Williams
Super Reviewer
In spite of the studio's blasphemous 'recut' of John Huston's work, The Red Badge of Courage successfully illuminates the fragile psyche of the foot soldier in harm's way. Audie Murphy, given his own combat experience, seems perfectly cast as the civil war private battling fear and self-doubt while serving in a union regiment. Like the source material from which it sprang, this film is a study in humanity and man's astonishing ability to persevere.
Randy Tippy
Super Reviewer
For 1951 it was a pretty great movie. It had a great behind it, and got it acrossed well. I felt it ended a little suddenly, and to me it seemed like there seemed to be something missing, though im not sure what, but overall, it was a film , for any civil war buff, too see.
Bobby Hobbs
Super Reviewer
The Red Badge of Courage Quotes
There are no approved quotes yet for this movie.