Red Cliff (Chi Bi)
(2009)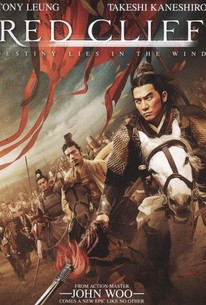 TOMATOMETER
AUDIENCE SCORE
Critic Consensus: Featuring some impressively grand battlefield action, John Woo returns to Asia and returns to form in the process for this lavish and slick historical epic.
Red Cliff (Chi Bi) Photos
Movie Info
The first chapter of a two-part story centered on a battle fought in China's Three Kingdoms period (220-280 A.D.).
News & Interviews for Red Cliff (Chi Bi)
Critic Reviews for Red Cliff (Chi Bi)
Audience Reviews for Red Cliff (Chi Bi)
½
Red Cliff is an epic retelling of the battle of Red Cliffs in which a power hungry politician attempts to invade the peaceful lands of the south to unite the kingdom under his personal rule. Although clearly a historical epic, the film I was reminded of the most whilst watching Red Cliff was The Two Towers, mainly because of the fact that it is pretty much just one huge battle sequence in which two vast armies of pixels kick the crap out of each other. It's basically the story of a game of military chess between two strategists rather than anything as mystical and romantic as Crouching Tiger or House Of Flying Daggers, and as such it is much more of a "boy's film". Woo does in fact try to inject some of this sweeping romanticism, but it falls short of Ang Lee's poetic vision because it relies entirely on one character; unfortunately she is criminally underwritten and Wei Zhao plays her with a constant vacant semi-smile that just made her look a bit retarded! On the other hand Takeshi Kaneshiro clearly relishes the role of wily tactician which makes a change from his usual action man persona and the best sequences come when the personalities of the characters are stamped onto the surrounding battle; namely the involvement of their feisty spy and Kaneshiro's ploy to steal arrows from the opposing army. The opening sequence featuring a general protecting his master's baby (a clear reference to Hard Boiled) also raises a smile. Maybe not fully rounded, but as a visual spectacle it is an absolute feast and it makes me wonder how good it would've been if Woo had stayed in China to create projects like this instead of spending the last 20 years sucking Satan's cock in Hollywood...
A decent big battle epic film by John Woo. The fight scenes are good and on a huge scale. Sadly there wasn't a great deal of plot, just waiting for the next big battle to take place, so it did become repetitive in that sense which isn't helped by a long run time.
½
John Woo's epic movie about the historical Chinese battle at the red cliffs has everything you expect from a film of such a scale: interesting characters that grow on you, a great soundtrack, huge spectacle and gorgeous shots, lots of (surprisingly unbloody ) fights and battles, some of which are of course as exaggerated and silly as expected from Asian cinema. Even the shorter cut of the film feels a bit long in the middle part. But the final battle and all the tactics that come with it are really great and offer very enthralling entertainment. It all culminates in an almost Tarantino-esque standoff between the main characters that literally has you on the edge of your seat. Thankfully, while some of his trademarks can be found throughout the film, Woo does not go overboard with his slow-motions or dramatically flying doves. Of course he still had to add a dove, though. Still, great and huge historical cinema.
Red Cliff (Chi Bi) Quotes
| | |
| --- | --- |
| Zhuge Liang: | A clear Milky Way and snaking clouds signal fog is near. If you know how earth, sky, yin and yang change, then the sun, moon and stars, the wind, forest, mountains and fire, become soldiers at your command. |
| | |
| --- | --- |
| Zhuge Liang: | We must fight even if we cannot win. |