Red Dawn
(2012)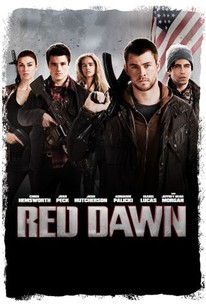 TOMATOMETER
AUDIENCE SCORE
Critic Consensus: The rebooted Red Dawn lacks the original's topicality, but at least pays tribute in delivering the same short shrift to character development and general logic.
Movie Info
In Red Dawn, a city in Washington state awakens to the surreal sight of foreign paratroopers dropping from the sky - shockingly, the U.S. has been invaded and their hometown is the initial target. Quickly and without warning, the citizens find themselves prisoners and their town under enemy occupation. Determined to fight back, a group of young patriots seek refuge in the surrounding woods, training and reorganizing themselves into a guerrilla group of fighters. Taking inspiration from their high school mascot, they call themselves the Wolverines, banding together to protect one another, liberate their town from its captors, and take back their freedom. -- (C) Official Site
News & Interviews for Red Dawn
Critic Reviews for Red Dawn
Audience Reviews for Red Dawn
I watched this more out of curiosity over the plot since the premise was interesting to me. However, let's start by saying that the personal conflict between the characters is silly and unimaginative. The main plot is not much better since the movie doesn't really explain how North Koreans could ever feasibly invade a country by dropping down in parachutes from the sky. And these kids train and form a guerrilla in a manner way to fast and incomprehensible in the limited 90 minute run-time this movie brings us. But then having the ludicrous and poorly written dialogue go on any longer wouldn't have been advisable.
Jed Eckert: Marines don't die. They go to hell and regroup. "Welcome to the Home of the Brave" Red Dawn is a truly an unnecessary remake of a movie that was terrible to begin with. With that being said I'll give this a little praise, but not much, for being better than I thought possible. In fact, in my opinion it is better then the original, but that's not really saying a whole hell of a lot. It has many of the same problems, terrible dialogue, awful acting and such, but it flows better and is a lot more entertaining. Same story basically as the original, except updating it to the 21st century and making the bad guys that invade the home town of the Wolverines, North Korean instead of Russian. Although the Russians are still in the picture on the east coast. A group of students led by a marine escape capture by the North Koreans and end up going to war against them in order to try to save their town and their country. This really isn't worth the watch, especially if you've seen the original, but it isn't the complete piece of shit I thought it was going to be. Overall, it has entertaining aspects to it, but the annoying elements destroy it just like with the original Red Dawn.
Melvin White
Super Reviewer
½
Don't compare this to the original. Don't pick at this too much, and it becomes much more enjoyable. If you just go along for the ride, you will find this movie halfway decent. Tons of action throughout...
Cynthia S.
Super Reviewer
Red Dawn Quotes
| | |
| --- | --- |
| Matt Eckert: | We're not doing too bad for a bunch of kids. We're gonna fight, and we're gonna keep fighting, because it's easier now. And we're used to it. The rest of you are going to have a tougher choice. Because we're not going to sell it to you. It's too ugly for that. But when you're fighting in your own backyard, when you're fighting for your family, it all hurts a little less, and makes a little more sense. Because for them, this is just a place. But for us, this is our home. |
| | |
| --- | --- |
| Jed Eckert: | You fucked with the wrong family. |
| | |
| --- | --- |
| Jed Eckert: | Even the tiniest flea can drive a big dog crazy. |
| | |
| --- | --- |
| Jed Eckert: | I am gonna fight. It's easier for me, because I've done it before. The rest of you are gonna have a tougher choice. I'm not gonna sell it, it's too ugly for that. These soldiers don't want to be here. For them this is some place, for us it's our home. When you fight in your backyard it makes just a little more sense, and hurts a little less. |