Red Dog
(2011)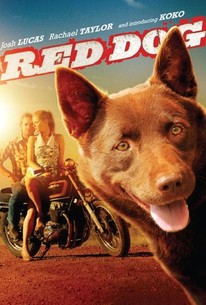 Movie Info
Based on the legendary true story of the Red Dog who united a disparate local community while roaming the Australian outback in search of his long lost master.
Critic Reviews for Red Dog
Audience Reviews for Red Dog
A heartwarming Aussie tale about a small mining town setting their differences aside to look after a Kelpie dog by the name of Red Dog. This film made me and my family laugh, cry and generally gave us a warm and fuzzy feeling inside. It stuck such a powerful chord to me and my family, who all of us have been owners of a variety of animals (Corgi breed dogs, rabbits and birds) If you don't feel any strong emotion from this film, you're either selfish or heartless.
Sentimental Australian family film and great emotional based-on-a-true-story tale of adventure, love and lasting friendship with a wandering, dust-covered Kelpie. It is familiar to Lassie, Benji and true Hachti as Red Dog is a dog for the soul. Based on a short story penned by Louis de Bernieres, who was inspired by actual events in Australia, director Kriv Stenders has risen to the challenge. Red Dog is a stunningly shot fable that captures the beauty of the Outback while never losing sight of the human - and canine - spirit needed to exist in the often harsh environs. Koko the dog plays as title role has expressions that would make some actors look wooden. He steals your heart. The landscapes of the northwest show the expanse of the area, whilst capturing the spirit of the 'settlers' of Dampier, which is a real town. It's a wild country and the stubby shorts the blokes are wearing are so 1970's. As for star power, Josh Lucas stars as the wanderer turned bus driver John who becomes the one and only de-facto owner of Red Dog as they form a loyal master-dog relationship, with Rachael Taylor playing Nancy his love interest whom he met while serving the community, and she getting into a tussle with Red Dog on his bus. Their romance will form the crux which the story will revolve around briefly, although there are other stories which I enjoyed such as how Red Dog got into assisting an Italian miner Vanno (Arthur Angel) go after a nurse (Keisha Castle-Hughes), and a heart-wrenching moment involving the themes of loyalty and longing. And I was surprised to see two supporting actors, Noah Taylor and Loene Carmen played as married couple, reunited again since 1987's The Year My Voice Broke - almost 25 years.
Dean McKenna
Super Reviewer
This Australian family film directed by Kriv Stenders manages to catch the Australian spirit and to explore it to the max... I just loved it! The film is based on a true story from the novel Red Dog and at the 2011 Inside Film Awards Red Dog was nominated in nine categories and won seven, including Best Feature Film! The real Red Dog lived from 1971 - 21st November 1979 and it was a Kelpie/cattle dog cross who was well known for his travels through Western Australia's Pilbara region. There is a statue in its memory in Dampier, which is one of the towns to which the Red Dog often returned. The story starts when a truck driver Thomas (Luke Ford) arrives in Dampier, Western Australia, late one night. Upon entering the town pub he sees the silhouettes of a group of men, one of whom is holding a gun. Believing he is witnessing a murder he rushes into the next room, where he sees that the men are trying to put down an apparently sick dog. Unable to bring themselves to carry out the euthanasia, the men, with Thomas, retreat to the bar. Publican Jack Collins (Noah Taylor) narrates the story of the dog - Red Dog's - arrival in Dampier. Upon arriving, the dog befriends many of the employees of Hamersley Iron, who have a major iron ore excavation in progress. Various miners relate their stories of Red Dog to Thomas, but state that, while Red Dog was a dog for everyone, he had no real master. A movie with an outback soul... sometimes slow and rough around edges but always staying true to the Aussie life and reality... recommended for everyone who loves animals and Australia... you'll enjoy it.
Red Dog Quotes
There are no approved quotes yet for this movie.