Red Headed Woman
(1932)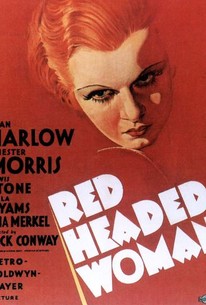 AUDIENCE SCORE
Critic Consensus: No consensus yet.
Movie Info
A beautiful and determined young secretary schemes mightily to get her employer to request her hand in marriage and ultimately can't help but succeed. Many classic Jean Harlow moments abound in this fun, slightly racy pre-code romp.
Critic Reviews for Red Headed Woman
All Critics (3) | Fresh (3) | Rotten (0)
Harlow is near her stride in this early talkie potboiler.
February 17, 2008 | Rating: 3/5
Its overall tone and Harlow's unbridled (in every sense of the word) wantonness raise the film to the level of a kind of trash masterpiece.
Audience Reviews for Red Headed Woman
Red-Headed Woman really epitomizes pre-Code Hollywood. Jean Harlow plays a gold-digger who seduces her boss (Chester Morris) and who will stop at nothing to break up his marriage and climb her way to the top. He tries to resist, but she makes it clear that she's available anytime and anywhere ("I'll be just what you want me to be"), and that no one will need to know. After getting her face slapped when he tries to break it off, she snaps "Do it again, I like it, do it again!"; it's a scene that is both disturbing and erotic, as she later very provocatively hides a key down her blouse as he glowers from the door, trapped, and then advances on her as the shot fades to black. You may wonder why I like this movie despite the physical abuse Harlow suffers, when I hated other movies from this time period which show a woman getting slapped. In this case it's shown as the darker side of both characters. Harlow will submit herself to anything in her desperation. Morris is hopelessly trapped between his conscience and his libido, and as his emotions boil over, gets violent. Their relationship is a sickness, and this is not sugarcoated or made to appear rosy or normal by the film. Harlow was 21 at the time and is fantastic - sexy, sure, but also great as drunk and great as angry. As the film goes on her character gets increasingly repugnant, as she moves from man to man, and in a surprise, begins an affair with the chauffer as well. She is frustrated and humiliated when found out, but in what was a shocking ending only possible pre-Code, she's shown to be continuing on with some other rich old guy in Paris, unpunished (gasp). The movie has elements of unguarded honesty - the seduction, the dilemma and overwhelming temptation Morris's character faces, and the freedom to express this ending - but also moments that are just over-the-top male sex fantasy, bordering on misogyny. Harlow was an emerging sex symbol and aside from showing off her body, has lines from the beginning that make it clear she's a 'bad girl' - for example, after asking 'Can you see through this' about a dress and being told yes, saying she'll wear it. It's a pretty simple story and far from profound, but it moves right along in its 79 minutes, was fun to watch, and reminds us of some truths between men and women that are eternal.
Antonius Block
Super Reviewer
Jean is one cheap piece of baggage in this racy pre-code but she's having a hell of a good time at it. This shot her to the top for the next five years as a great comedic broad.
I really loved Harlow's performance in this movie, her character is crazy, using her feminine wiles to get every man's attention, and the lengths she goes to get these guys...wow. The story is good, but close to the end it slows down a bit and gets a bit confusing, and I'm not sure if I liked how it ended. Overall, I liked it though, it was a really interesting movie.
Red Headed Woman Quotes
There are no approved quotes yet for this movie.