Red Hill
(2010)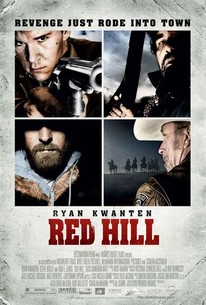 TOMATOMETER
AUDIENCE SCORE
Critic Consensus: Though its attempts to rework genre conventions may fall flat with some, Red Hill is a beautifully shot, tightly paced thriller that marks a strong debut for director Patrick Hughes.
Movie Info
Young police officer Shane Cooper relocates to the small country town of Red Hill with his pregnant wife Alice to start a family. But when news of a prison break sends the local law enforcement officers - led by the town's ruling presence, Old Bill - into a panic, Shane's first day on duty rapidly turns into a nightmare. Enter Jimmy Conway, a convicted murderer serving life behind bars, who has returned to the isolated outpost seeking revenge. Now caught in the middle of what will become a terrifying and bloody confrontation, Shane will be forced to take the law into his own hands if he is to survive. A taut thriller which unfolds over the course of a single day and night, and told with explosive action and chilling violence, Red Hill is a modern-day western played out against the extraordinary landscapes of high-country Australia. -- (C) Strand Releasing
Critic Reviews for Red Hill
Audience Reviews for Red Hill
½
You could be forgiven for thinking this is a Clint Eastwood style period set western and that's exactly what I thought it was upon seeing the poster design and film title, in fact its set in the present day and is more of a homage to westerns. Being set in the arid merciless Aussie outback of course does make it more of cowboy than cop thriller for sure. The film is pretty unoriginal lets be honest about it, the layout and events are nothing new and do smell strongly of certain saddle bound Eastwood adventures but again..lets be honest here, its a damn good Aussie version of certain saddle bound Eastwood adventures. Beating around no bushes this is a strong violent retribution/revenge thriller that almost kinda boarders on 'The Terminator' in some building and street sequences with its light-less settings, strong shadows and mute anti hero killer. From the start you know something is amiss with the local police force and their gruff leader 'Old Bill', you can kinda tell what will happen really but it doesn't detract from the fun of the film one bit. The cast are unknown to me but pretty big in Oz. Bisley as 'Old Bill' is perfect and really comes across well as the hardened no nonsense chief whilst Lewis is great as the mute aboriginal gunman who at first is intimidating, almost robotic like in his swift killings, but you know all is not as it seems. The lead Kwanten does sort of over act towards the finale as he goes from being a regular guy to a strong stern voiced gunman brewing over with cliches but you feel the tenseness of the finale and you find yourself glued to the screen. Nothing really new to the table here but the whole film looks good and is well acted with a trusted source in the nasty revenge genre to always get the juices flowing, maybe some more nastiness to really bring home the need for revenge was needed though. Highly recommended and much better fair than the usual over hyped glossy Hollywood guff that was 'No Country for Old Men', this is gritty and more down to earth with realistic characters. The Oz factor of course helps this hugely. Still not so sure what the panther subplot was all about though, why was it needed? oh well.
Phil Hubbs
Super Reviewer
A triumph. Director, Patrick Hughes crafts a fiery directional debut with extraordinary landscapes, chilling story, explosive action and thrilling suspense. Hughes writes, edits, produces and crafts this fine and remarkable example of a modern western stripped to a morality tale. A terrific Australian film that's pumped up with great character development, well-executed action and mystery to make this a memorable and surprisingly effective revenge tale. A taut and first-rate thriller that keeps you on the edge of your seat until the final frame. An exhilarating and pulse-racing thrill-ride. A great cast of Australian talent that truly makes an impression. Ryan Kwanten gives a riveting and utterly compelling performance. Steve Bisley is excellent. Tom E. Lewis is a force of nature, he has all but six lines in the film but bring an intense and chilling presence to his character.
"Red Hill starts off quite slow, but picks up gradually. A town secret soon turns into their worse nightmare in this thriller. Unfortunately the newbie Shane Cooper gets caught in the crossfire. Story isn't too bad. The acting is choppy, but I liked Ryan Kwanten. He was a really good strong lead. He carried the movie and made it watchable. It's not something I would watch again."
♥˩ƳИИ ƜѲѲƉƧ♥
Super Reviewer
Red Hill Quotes
There are no approved quotes yet for this movie.