Red Joan
(2019)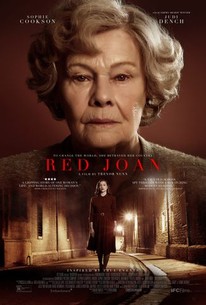 TOMATOMETER
AUDIENCE SCORE
Critic Consensus: A fascinating real-life story dramatized in perplexingly dull fashion, Red Joan wastes its tale's incredible intrigue -- as well as the formidable talents of Judi Dench.
Movie Info
In a picturesque village in England, Joan Stanley (Academy Award (R) winner Dame Judi Dench), lives in contented retirement. Then suddenly her tranquil existence is shattered as she's shockingly arrested by MI5. For Joan has been hiding an incredible past; she is one of the most influential spies in living history... Cambridge University in the 1930s, and the young Joan (Sophie Cookson), a demure physics student, falls intensely in love with a seductively attractive Russian saboteur, Leo. Through him, she begins to see that the world is on a knife-edge and perhaps must be saved from itself in the race to military supremacy. Post-war and now working at a top secret nuclear research facility, Joan is confronted with the impossible: Would you betray your country and your loved ones, if it meant saving them? What price would you pay for peace? Inspired by an extraordinary true story, Red Joan is the taut and emotional discovery of one woman's sacrifice in the face of incredible circumstances. A woman to whom we perhaps all owe our freedom.
News & Interviews for Red Joan
Critic Reviews for Red Joan
Audience Reviews for Red Joan
Red Joan is inspired by a true story of an elderly British woman being outed in the 1980s for being a spy for the Russians and passing along British nuclear secrets. If the real story were as boring as what appears onscreen, I doubt anyone would care. Judi Dench plays the older Joan dealing with the public reckoning decades in the making and Sophie Cookson (Kingsmen) plays the young college grad in the 1940s who lands a top nuclear physicists job with the government and alongside a married man she falls for. Some friends who might not really be her friends snooker Joan into becoming a spy, and her rationale is that the world will be a safer place if other countries have the bomb other than simply America. Older Joan says history has proven her right and she takes partial credit for helping to ensure peace. First off, this logic seems faulty. If something is dangerous, I don't know if it's less dangerous if more people/countries have it (see: the firearm industry). Secondly, there were numerous incidents that almost brought the U.S. and the U.S.S.R. to mutually assured self-destruction including the Cuban Missile Crisis. The biggest problem with Red Joan is how shockingly boring it all is. A young woman pulled into espionage and treason, having to maintain her secrets while they eat away at her and she betrays her colleagues and loved ones, that's the stuff of complex human drama, or at least it should be if the storytelling knows what it's doing. The movie never seems to treat what she's doing with great stakes. Here's an example of how rushed and under developed the story can be: scene 1) Joan learns her co-worker doesn't have a great marriage; scene 2) they complete a crossword together and he nudges closer; scene 3) they kiss and he declares his love for her. This sequence of events is portrayed during a travel montage or all things. The characters are so underwritten and their compromises and conflicts rarely feel real because of moments like this. The acting is generally good all around and I wish Cookson would get a starring vehicle worthy of her talents. The biggest mystery for me with Red Joan is that the story depicted onscreen is made up, diverging from the real events, so why didn't they tell a better story with their freedom? Nate's Grade: C
Nate Zoebl
Super Reviewer
This story had the potential to be a sharp historical account of the development of the atomic bomb in the 1940s, if it had focused on interesting science, politics and espionage. The scenes with present-day Joan and her son deliver most of its substance and the key facts. The young Joan was inventing the bomb, a member of a secret wartime team of scientists, and she was also a Russian spy. However, the film treats her less as a cool head, and more as a slave to romance. Compare The Imitation Game - in this film, we needed greater details of 'the quickest mind in atomic physics'; and how she operated. Just as in life she was apparently treated as though she were invisible, or the tea lady, so the film skates over her importance. Even then, the romances are patchy, the sex scenes embarrassing. The other Russian spies are exceptionally beautiful, charismatic and glamorous; who would not have picked them out? Logical threads get fuzzy, the screenplay and editing jump around, with key plot devices introduced towards the end. People looking for a period piece will enjoy the lavishly produced English scenes, cars and clothing, plus hairstyles. People who want an insight into the events will get some. To understand Joan herself, you have to wade through all the padding, while it's the scenes with Dench that deliver the essence of the story.
Red Joan Quotes
There are no approved quotes yet for this movie.