Red Lights
(2012)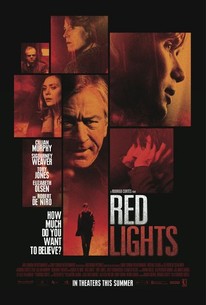 TOMATOMETER
AUDIENCE SCORE
Critic Consensus: Wasting the talents of an impressive cast on a predictable mystery, Red Lights lacks the clairvoyance to know what audiences want.
Movie Info
Veteran paranormal researchers Dr. Margaret Matheson (Sigourney Weaver) and Tom Buckley (Cillian Murphy) debunk fraudulent claims of ghost whispering, faith healing and other psychic phenomena by detecting what Matheson calls "red lights," the subtle tricks behind every staged supernatural occurrence. But when the legendary blind psychic Simon Silver (Robert De Niro)comes out of retirement after 30 years, his once-fearless adversary Matheson warns Buckley to back off, fearing reprisal from the powerful Silver. Determined to discredit Silver, Buckley and his star student (Elizabeth Olsen) use every tool at their disposal to uncover the truth behind the charismatic, spoon-bending, mind reader. But Buckley is forced to reexamine his own core beliefs as his quest builds to a mind-blowing conclusion in this taut psychological thriller from award-winning writer and director Rodrigo Cortés. -- (C) Official Site
News & Interviews for Red Lights
Critic Reviews for Red Lights
Audience Reviews for Red Lights
A pair of paranormal investigators who specialise in debunking self-proclaimed "clairvoyants" go head to head with a renowned psychic who comes out of retirement. Rodrigo Cortes' supernaturally themed thriller has many of the hallmarks of the projects of the likes of M. Night Shyamalan in that it's nicely shot, directed with some panache and has managed to attract some big names to the cast. Unfortunately it has also inherited their hokiness and reliance on telegraphed twists that are all to obvious to anyone with any cinematic literacy. Red Lights does have its moments thanks to the superior cast and the cinematography is attractive and atmospheric but as always seems to be the case with the genre, the initial intrigue is far more entertaining than the pay off. In the end it feels over-long and anticlimactic despite a potentially interesting final twist in the tale and more like a decent episode of The X-Files than a big budget movie. Christopher Nolan has made a career of doing this type of thing, but doing it much better.
½
Tom Buckley: And today it'll be over...for you and for me. "How Much Do You Want To Believe?" Red Lights is a very interesting movie, but not all that satisfying of one. For one, the first half is extremely dull and boring. The movie finds some momentum in the second half though. Also I don't care for where the story goes. It's all so obvious and unsatisfying, that it destroys an interesting concept and a trio of good performances from great actors.  Margaret Matheson and Tom Buckley work together at a university and for the most part, their work is in exposing psychics who claim they have powers for frauds. There's one psychic that made Margaret doubt though and that is Simon Silver. Silver is coming back from retirement and is the most famous psychic out there. Tom gets obsessed with exposing Silver as a fraud, but is he actually? Robert De Niro and Sigourney Weaver are both good in their veteran roles, but Cillian Murphy definitely gives the best performance in the film. Still these actors and a good storyline are ruined for me, by the movie going exactly where you expect, but don't hope, it goes. Unfortunately this one goes that path and ends up playing out in a Carrie-esque fashion.  This is still worth a look, as it isn't a completely horrible film, but just one that doesn't live up to what it could have been. This should have been a great movie and not just a so-so one and that's my biggest problem with it. If the idea of a movie about psychics and trying to expose them for frauds, with many bizarre elements thrown in for good measure, intrigues you; then give it a look.
Melvin White
Super Reviewer
½
Confusing. Had potential, but went astray...
Cynthia S.
Super Reviewer
Red Lights Quotes
| | |
| --- | --- |
| Simon Silver: | How did you do that? |
| | |
| --- | --- |
| Simon Silver: | Are you questioning my power?! |
| | |
| --- | --- |
| Simon Silver: | It is the deep, painful urgency of the animal forced to live in darkness which finally opens its eyes and voraciously demands light with a howl of rage! |
| | |
| --- | --- |
| Tom Buckley: | I stop deny myself.... |
| Tom Buckley: | You can't deny yourself forever. |