Red Planet
(2000)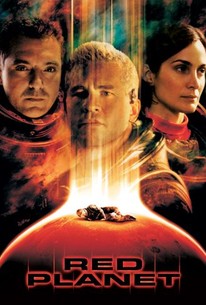 Movie Info
An effort to circumvent global catastrophe becomes a disaster in its own right in this science fiction thriller. In the year 2050, Earth is on the verge of ecological disaster, and the Mars Terraforming Project has been created in hopes of making our neighboring planet habitable so that a colony of Earthlings might begin a new civilization there. But the project goes awry, and Commander Kate Bowman (Carrie-Anne Moss) is put in charge of a rescue mission to set the system back on its feet. Bringing along astronaut Robby Gallagher (Val Kilmer) and scientists Dr. Quinn Burchenal (Tom Sizemore) and Dr. Bud Chantillas (Terrence Stamp), Bowman and her crew set out for Mars, but disaster strikes and the landing craft crashes into the red planet. The crew is stranded without communications as Bowman struggles to find a way to get them home; to make matters worse, the robot that was designed to serve and protect them has gone haywire, and is now attempting to hunt them down as prey. Red Planet was originally to have been released as Mars, but the producers changed the title to avoid confusion with Mission to Mars, released earlier the same year.
Critic Reviews for Red Planet
Audience Reviews for Red Planet
A sci-fi that fails to amaze! Nothing sets this movie apart from other average sci-fi dramas.
Film Crazy
Super Reviewer
½
The second Mars movie in the year 2000 and unfortunately it couldn't better the first offering 'Mission to Mars' but was actually a bit worse. Again I was kinda hoping for a serious slice of sci-fi with a possibility of some epic lavish visuals and ideas but this film goes completely in the oppersite direction and gives you a more action based silly affair, to be frank you can guess by looking at the cast line up. Kilmer, Sizemore, Bratt and Moss make up the space team this time and they do give a slightly better or less wooden performance than the team in 'MTM', you do get more of a grounded feeling from the characters instead of the perfect all American poster boy vibe you got with Sinise and Robbins in 'MTM'. Stamp heads the team to really try and give the film some gravitas but good old Terence can't quite get there, in fact his performance is the most stale of bunch oddly enough, I don't think space fits him too well. You get the same kind of orbital and planetary issues as you would expect, nothing too original, it all looks very nice though, the space suits and ships are cool and well designed and Mars is well presented. The plot is fun and makes you think but overall the film is highly unrealistic (much more than 'MTM' despite that films alien inclusion) but does give a more grounded line of thinking with alien life and how it could work. The problem I had with the film was the sub plot revolving around the man made robot 'AMEE', it just felt disappointing that one of the main risks to the crew would be a 'Terminator' style man made robot. In all honesty the film is fun and I quite like it, I like the whole space exploration concept and find it never gets dull and would welcome more films where teams explore our solar systems planets. It was a flop and I can see why, it starts off well but sinks fast into your average adventure, nothing outstanding, the 'Armageddon' of the two.
Phil Hubbs
Super Reviewer
Tame sci-fi with not much of a story leaving the actors without much to work with.
Kevin M. Williams
Super Reviewer
Red Planet Quotes
| | |
| --- | --- |
| Gallagher: | Alternate high-voltage-energy source... . come and get me. |
| Gallagher: | Alternate high-voltage-energy source. Come and get me. |
| | |
| --- | --- |
| Gallagher: | Hey sweetie. |
| Gallagher: | Hey sweetie. |
| Chip Pettengill: | Sweetie ? Is she our navigator or your girlfriend ? |
| Chip Pettengill: | Sweetie? Is she our navigator or your girlfriend? |
| Gallagher: | It`s been a long flight. |
| Gallagher: | It`s been a long flight. |
| Chip Pettengill: | Certainly has. |
| Chip Pettengill: | Certainly has. |