Red Planet Mars
(1952)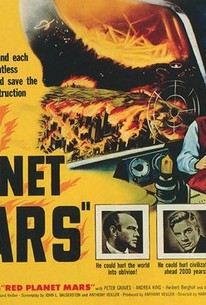 Movie Info
A scientist invents a device to receive messages from outer space and finds that an unusual series of communications are emanating from Mars. Further investigation leads to the conclusion that these messages are in fact the word of God in this unusual sci-fi drama.
Critic Reviews for Red Planet Mars
Audience Reviews for Red Planet Mars
½
One of the most interesting sci-fi movies of the fifties, I highly recommend checking it out.
½
Due to the elliptical nature of Mar's orbit, only rarely does it come close enough to Earth to afford a clear view of it's geography. When it does, supposedly in 1952, scientists notice that the huge ice mountains of the poles have been melted into water and channeled to large cities spread across the landscape, proving the existence of life on the red planet. Coincidentally, a remarkable invention known as the "Hydrogen Valve" has just been developed, enabling the sending of coded messages across the vast expanse of space. Now Earth can communicate with those industrious water channelers so very far away. But, the question is, what will they say? Will they end hunger, disease and misery on Earth? Will they advance our technology? Are they friendly? Could they be... possibly... Christians?!?!?
Randy Tippy
Super Reviewer
Red Planet Mars Quotes
There are no approved quotes yet for this movie.