Red Riding: 1983
(2009)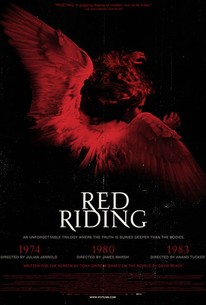 Movie Info
The Red Riding Trilogy draws to a close in this installment that finds Detective Chief Superintendent Maurice Jobson (David Morrissey) realizing that the Yorkshire Ripper may still be at large, despite the fact that someone has already been convicted of the heinous crimes. When a young girl is abducted in an incident that bears a chilling resemblance to the crimes of the Yorkshire Ripper, Chief Superintendent Jobson is forced to consider the possibility that he helped to put the wrong man behind bars. Meanwhile, local solicitor John Piggott (Mark Addy) stumbles onto evidence of a massive cover up, and wages a one-man mission to uncover the truth. Adapted from British author David Pease's best-selling series of crime novels centering on the mystery of the Yorkshire Ripper.
Critic Reviews for Red Riding: 1983
Audience Reviews for Red Riding: 1983
As boring, uninspiring, and completely irrelevant this third installment in the âRed Ridingâ? trilogy are, there is some great dialogue and a few contrasts to the original story that it shares. This is absolutely not the conclusion I was hoping for, because they hardly ever shed a light on the past events and itâ(TM)s characters involved. I donâ(TM)t have much to say about this film, just that it was an utter disappointment. I still enjoyed some of the moments, making it watchable, but without anywhere new to tread, it falls flat sometimes. Stick to the first film, itâ(TM)s great!
½
[My predicted rating: 4] Some of the best Gritty Drama Actors of the British Screen unite for the 3rd installment to the Red Riding Concluding part. The high standard of acting, sometimes outweighs the actual story (which admittedly, at times were confusing) but stay with it, it builds up to a non disappointing ending, bringing to an end this impressive trilogy.
Lady D'arbanville
Super Reviewer
½
An extraordinary final chapter to the unforgettable "RED RIDING TRILOGY." "1983" ties up most of the loose ends from the first two entries, which alone might make this the most gratifying installment. I still prefer "1980," but this film contains some of the best, most intense, most achingly beautiful scenes of the trilogy, as well as the most shocking of revelations. The performances are superb (the key new addition being Mark Addy) and the writing is top notch; it's a joy to watch all the different plot strands come together, even the most minor of details. It's the most visually striking of the trilogy and ends in a superbly poetic, emotional way. I think this is the best possible conclusion to a remarkable saga. Providing the necessary answers while still remaining as challenging as previous installements, Anand Tucker's "1983" is not just a stellar work of cinema; it has cemented "RED RIDING" in it's entirety as a classic, monumental achievement.
Red Riding: 1983 Quotes
There are no approved quotes yet for this movie.