Red Riding Hood
(2004)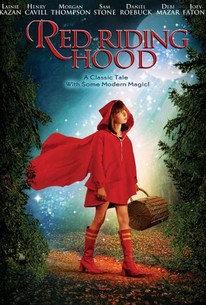 AUDIENCE SCORE
Critic Consensus: No consensus yet.
Movie Info
A young girl entrusted with the task of delivering a special package to her grandmother finds herself faced with a most unpleasant stalker in this retelling of the classic fairy tale starring Daniel Roebuck, Debi Mazar, Sam Stone, and Joey Fatone and served up with a curious contemporary twist. Red is an adolescent girl whose ailing grandmother lives in the deepest reaches of the magic forest. Asked by her mother to deliver a package to the elder family member, Red eagerly agrees without realizing that her assignment isn't as much about getting the package to grandma as it is about carrying on the legacy that has been passed down through generations. In order to achieve the status of the legendary maiden in red, this frightened young girl will have to overcome her ultimate fear by outwitting the malevolent wolf that will do everything in his power to get the tender young morsel on his dinner plate.
Critic Reviews for Red Riding Hood
There are no critic reviews yet for Red Riding Hood. Keep checking Rotten Tomatoes for updates!
Audience Reviews for Red Riding Hood
½
2004) - I ONLY ordered this because Henry Cavill was in it. I openly admit to that. I just wanted to see that clean shaven face you just want to eat up when you see the smile. Other than that.. Well I rolled my eyes a few times (some at myself ) The musical numbers (Tho thank goodness I think there was only 1 full length) weren't hat great but the 1st one w/ the grandmother & Red remindedme of Wizards of Waverly Place for some reason LOL.. No idea why. They're inda lame The only on I somewhat liked was the pasrt where the wolf & red are going through the What Big Eyes you have etc. Oh & Joey Fatone plays the wolf.. lol I liked one of his numbers (other than the mention above) crappy movie tho the way the grandma in it tells the story is a bit different in ways. (red has a brother...) The music is very boy band pop (oh yeah & speaking of... Nelson's I can't live w/o your love & affection is dons by some boy band that doesn't do it justice.. (I'll have to go put that tape on need to find it in CD tho!) C-
Kym (c my community profile) Ragarsson
Super Reviewer
Red Riding Hood Quotes
There are no approved quotes yet for this movie.