Red Road
(2007)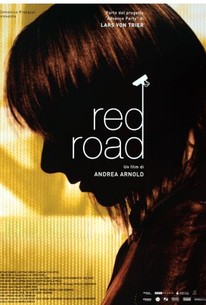 TOMATOMETER
AUDIENCE SCORE
Critic Consensus: Red Road director Andrea Arnold skillfully parses out just enough plot details at a time to keep the audience engrossed in this seductive thriller.
Movie Info
A woman paid to watch others begins stalking one of the men she's been trailing in this thriller from Scotland. Jackie (Kate Dickie) is a woman who has buried herself in her work with a security company since the death of her husband and child. Jackie's work involves monitoring a crime-ridden corner of North Glasgow with a bank of closed circuit television cameras; after her shift is over, she either goes home or has an occasional assignation with a friend from work who isn't happy with his wife. While watching the comings and goings in a run down apartment block, Jackie spies Clyde (Tony Curran), a handsome former jailbird who shares a shabby flat with his buddy Stevie (Martin Compston) and April (Natalie Press), Stevie's girlfriend. Jackie becomes fascinated with Clyde, and after carefully following his routines through her cameras she meets him face to face at a local bar, and soon lures him into a relationship. However, in time Clyde discovers neither love nor lust is the motivating factor behind Jackie's actions. The first feature film from award-winning director Andrea Arnold, Red Road received its world premier at the 2006 Cannes Film Festival. ~ Mark Deming, Rovi
News & Interviews for Red Road
Critic Reviews for Red Road
Audience Reviews for Red Road
A very good movie about a women seeking revenge for the death of her husband when she see's the man responsible for his death and her daughters death back on the streets. A thriller and drama with many twist and turns. 4 stars 7-3-12
Bruce Bruce
Super Reviewer
There's something very appealing about withholding the full story from an audience until the end. If it's done right. With Red Road, it's not done very well. What the folks involved in this project wanted to do, I'm sure, is create suspense. Mission not accomplished. By the time you understand the whole story, you really don't care.
Lanning : )
Super Reviewer
A tough, surprising movie that is nonetheless limned with "I've Loved You So Long Syndrome" - that is, the obfuscation of the plot to extend an ultimately thin story to feature length. What makes this tough narrative conceit work in Red Road is that Jackie is obviously such a broken, lonely woman that there's really no need to exhume her personal tragedies. She has no tangible support system to discuss her past with, short of some passively hostile and generally removed in-laws. Where Kristin Scott Thomas was surrounded by people who cared about her in I've Loved You So Long, and was completely unable to conjure up why she was imprisoned for them, the main character here has no real reason to share. This movie is also superbly controlled, vaguely peppered with disturbing themes like voyeurism and abuse, not as an immediate concern of the plot but merely to enhance our view of Jackie's situation. Her position as a City Guard watchperson, as I understand it, empowers her in a way that she probably never got to experience in her past, not to mention the escapist thrills it provides by looking into someone else's life. I don't know if they were intentional or not, but there are some really thoughtful questions that Jackie's choice of profession brings up; how reliable are a human's hands in a position like this? She seems to be good at her job, but utterly fallible when confronted with a reminder of her horrifying past, which reveals itself to have consequences. It really made me wonder about the moral and political ramifications of placing cameras all over a city under the guise of "protecting its citizens," which I do not have to contend with in America but am still curious as to the reactions of those who do. Whether this subtext is just me making things up or Andrea Arnold being exceptionally insightful in a quiet sort of way, it really speaks to Red Road's non-linearity and thematic freedom. Jackie, in herself, is so complex and unusual that she seems liable to do just about anything; the movie feels like it could go anywhere at any time. Kate Dickie's performance is commendable. She reminded me of a filtration of Tilda Swinton's Julia (two years her predecessor, anyway), more rigid morally but just as miserable and against-the-wall enough that her options are limitless. What more does she have to lose? Dickie is a wisp, sad and ephemeral, and her presence is like a hook in the viewer's gut. Her efforts in the movie's final scenes are shattering. This is not to discredit the fantastic work of her supporting cast, including Tony Curran as her scene partner in one of the most lucid, surprising scenes of "intimacy" I've seen. It is clear that Arnold, in participating in this experiment (Lars von Trier challenged three directors to make different movies with the same cast of characters and this is the first result), had a clear vision of what she wanted to do with her characters and how specifically to embody them. The actors she selected are perfect in what they project.
Drew Smith
Super Reviewer
Red Road Quotes
There are no approved quotes yet for this movie.