Red Sun
(1972)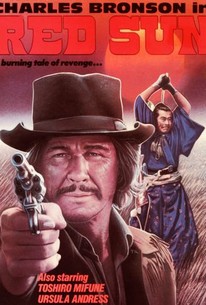 Movie Info
In what was billed as "The First East-Meets-West Western," Toshiro Mifune plays Kuroda, a samurai warrior who accompanies a Japanese diplomat to the United States. The diplomat has brought with him a golden, jewel-encrusted sword to present as a token of good will to the president, but as they travel by train through the west, they're ambushed by a pair of outlaws, Gauche (Alain Delon) and Link (Charles Bronson). Gauche and Link steal the sword, but Link leans the hard way about his partner's trustworthiness when Gauche double-crosses him and makes off with the booty. Since both Kuroda and Link have a grudge against Gauche, they warily join forces to track him down and return the sword to its rightful owner. Along the way, they have to deal with cultural conflict, Indian attacks, and encounters with beautiful women (played by Capucine and Ursula Andress). Given its cast and theme, Red Sun was predictably enough a major box-office success in Europe and Japan, but it passed through with little notice in the United States.
Critic Reviews for Red Sun
Audience Reviews for Red Sun
½
It's a fun western movie. The thing that made, Red Sun, don't be so good is the cliche of the tough guy, that is Charles Bronson. The story: original, screenplay: full of action, but commit some flaw. Terence Young's direction is weak, and Toshiro Mifune looks like the only thing that save Red Sun. Good film...
Lucas Martins
Super Reviewer
If theres one thing worse than dodging ruthless criminals, blood-thirsty Indians, and a crazy blonde hooker....its themselves! An unlikley pair must team-up in order to get the same thing....revenge and loot! A perfectly acted, bloody tale that'll leave you breathless. Just wonderful!
Corey Wood
Super Reviewer
½
All-star, fitfully entertaining Western has an interesting premise - samurai vs. cowboys - but ultimately wastes the considerable talents of the great Japanese actor Toshiro Mifune. Charles Bronson has another of those offbeat-character parts that he underplays into a leading role.
Dean McKenna
Super Reviewer
Red Sun Quotes
There are no approved quotes yet for this movie.