Red White & Blue
(2010)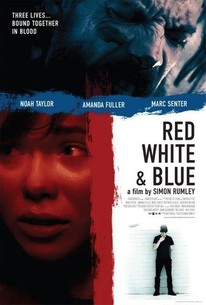 Movie Info
Red, White and Blue is a powerful, visceral and oddly touching thriller/slash movie. It's also very sophisticated storytelling with temporal shifts and three protagonist characters who function as both the killer and the prey.

Erica (BUFFY THE VAMPIRE SLAYER's Amanda Fuller) is a tough, troubled nymphomaniac with wounds across her soul. For Erica, sleeping with multiple men forms the core of her life, until she meets the mysterious Iraq vet Nate (THE PROPOSITION's Noah Taylor). Despite his quiet air of danger, Nate's the only guy who doesn't immediately want to sleep with her, and the two form a hesitant bond. But in a shocking twist, one of Erica's earlier sexual encounters, with wannabe rock star Franki (Marc Senter), will have unexpected - and devastating - consequences on both of their lives. Hard-edged and uncompromising, the film has already been compared to the works of such disparate filmmakers as Larry Clark and Sam Peckinpah.

Red, White and Blue is Rumley's follow up to the acclaimed British horror film The Living & The Dead.-- (C) IFC
News & Interviews for Red White & Blue
Critic Reviews for Red White & Blue
Audience Reviews for Red White & Blue
I'm not a fan of unnecessary violence in movies but when it's delivered in a psychological fashion like Michael Haneke's "Funny Games" or possibly Shane Meadows' "Dead Man's Shoes" then I can certainly go with it and respect the skill of the filmmaker. This shares some similarities with those aforementioned films but ultimately became far too savage and obstinate for me to fully appreciate. Erica (Amanda Fuller) is promiscuous Texan woman who has frequent, casual sexual relations with different men and completely indiscriminate in her choice of partners. One night she meets Iraqi Vet, Nate (Noah Taylor) and strikes up a genuine affection and friendship. However, Erica goes missing one day and Nate decides to look for her which uncovers some wrong doing and also brings out a sociopathic nature in the seemingly gentle Veteran. A film of two halves: The first, slow and methodical as it builds the relationships between the characters. During this time, it's filled with empty and loveless sexual encounters. It has a deliberate pace that may lose the interest of some viewers during this time. However, the second half of the film picks up the pace considerably and relentlessly. It's filled with violence and retribution and falls into torture porn territory with a frighteningly realistic and ambiguous performance from Noah Taylor. It's a shift in tone I wasn't fully prepared for and, as a result, found it a little hard to stomach. This is saying something, as just days before, I had sat down to the dark and disturbing William Friedkin film "Killer Joe" and enjoyed it immensely. The content of that movie was was no picnic (in more ways than one) but this film outstripped even that in terms of it's lasting and unsettling effect. If I had fully known what I was getting into with this, I'd probably have avoided it. That being said, I can't fault the construction and skill of director Simon Rumley on his pervading sense of dread or commentary on modern America but the resultant material just isn't for me. The most interesting aspect is seeing Noah Taylor flex his acting chops in a style that we're unaccustomed to and proves that despite still being relatively undervalued, he's a very fine actor. A stark and uncompromising film that's very well handled but when it's disturbing and violent nature takes hold, the content is very tough going.
Mark Walker
Super Reviewer
Excellent film with an unsettling and disturbing end. The movie is actually a very intelligent and inventive twist on the revenge thriller genre because things aren't as black and white as you usually see them in movies. It's a complex movie with the protagonists themselves being both the good and bad guys. The movie's first hour is mostly setting these characters up for what's going to happen in the second half of the film, so it may seem like the movie is slow to some but it is well written, excellently acted, Noah Taylor is tremendous and compelling enough that I was never bored, nor did the movie give me any reason to be. The second hour is incredibly powerful, visceral and uncompromising. So if you've got a weak stomach then definitely don't watch this movie because there's some really violent scenes. Well it's really just the one near the end, which I won't spoil, but it's really disturbing and gruesome. There was a problem I had with the film score. Near the end, during Nate's section where he goes crazy, the score goes absolutely haywire, discordant and playing very loudly. I suppose this was supposed to signify Nate and how unstable/psychotic he could really be. The problem is, it's annoying, to the point where it detracts from the scene as a whole. And it's not like it was even needed because Noah Taylor's work was top-notch and he did a great job at playing this psychopath. So it was completely unnecessary. This is even more apparent when, during the really violent scene, there's a simple but very creepy piano track playing over the proceedings which did more to sell me on Nate's insanity than the previous scenes did. That's pretty much the only complaint I had with this movie, just a tremendous and uncompromising film with some complex characters, excellent performances, and great writing that this film almost seems like a no-brainer if you enjoy thrillers. But be warned, the movie is most definitely very unsettling, which is part of what makes it as good as it is. Highly recommend this film.
Jesse Ortega
Super Reviewer
A very awesome thriller. Very graphic, just the way I like it!
Jacob Palacio
Super Reviewer
Red White & Blue Quotes
There are no approved quotes yet for this movie.