Reefer Madness (Tell Your Children) (Doped Youth)
(1936)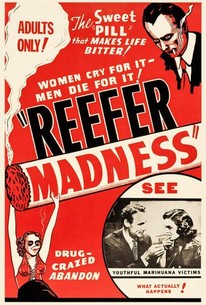 Reefer Madness (Tell Your Children) (Doped Youth) Photos
Movie Info
This is one of the '30s-era "out-for-your-best-interests" films. This one deals with the dangers associated with smoking marijuana and shows how high-school students, after smoking a little pot, may easily commit rapes and other awful drug-induced activities. In later years, in a more marijuana-enlightened society, this film has become a comedic cult classic.
News & Interviews for Reefer Madness (Tell Your Children) (Doped Youth)
Critic Reviews for Reefer Madness (Tell Your Children) (Doped Youth)
Audience Reviews for Reefer Madness (Tell Your Children) (Doped Youth)
Dr. Carroll: Yes. I remember. Just a young boy... under the influence of drugs... who killed his entire family with an axe.  "Tell your children!" I finally broke down and watched Reefer Madness after being told by countless friends and family that it is a hilarious movie to watch high. Hilarious? No. I mean sure, I chuckled a couple of times at the extreme exaggeration with the subject, but it was not all that funny to me. It was more infuriating to me. The film was pure propaganda which was thrown out as the truth to the masses and this film and likeminded thinking lead to the demonization of marijuana. So basically the plot of this so call movie, is about a group of teenagers who fall under the "addictive" and "dangerous" "drug" called marijuana. Before long they go into fits of uncontrollable laughter as they slowly lose their minds underneath the spell of the all destroying reefer. Then pre-marital sexual activities go on(Oh, my god. Teenagers having sex? Who'd of thought that?), then there's a hit and run while driving high, then there's cheating, lying, and failing. Then ultimately there's murder, and you know what? This could happen in your home. So tell your children. Since the making of Reefer Madness, the public has become aware of what the government already knew. Marijuana isn't a, quote on quote, "dangerous drug." We can look back at this film and see it for what it really is, propaganda. We can also look back and say that anyone who watched this shit and believed it is a complete moron.  So it's a propaganda film that is terribly made, acted, and scripted. I see why some get a kick out of watching the extreme exaggerations, but for me it is just sick exploitation and a disgusting piece of propaganda. 
Melvin White
Super Reviewer
And here it is, the mother of all drug propaganda films produced in the 1930's to scare teenagers and warn their parents about the "dangers" of smoking marijuana. Reefer Madness is legendary schlock. According to this film, once you smoke pot then everything goes downhill and never comes back up again. Everything just ends badly for everyone when they smoke up. Apparently you also laugh maniacally, play the piano really fast, dance like crazy, drive yourself to murder and go completely insane. That's what I got out of it anyway. As a former pot smoker myself, the most I ever wanted to do was kick back on the couch, watch some TV, snack and then sleep. That's it. I can't say that I got a burst of energy from smoking pot. Anyways, enough about me. This is an absolutely insane piece of celluloid, and I love it for that alone. My rating is biased I guess, because I'm rating it based solely on my enjoyment and not necessarily its quality. If you're looking for oddball crazyness, then you need look no further. Reefer Madness is your addiction.
Tim Salmons
Super Reviewer
Filmmaking isn't just the art form that aspiring directors yearn for, but a means to exclude and brainwash the public. The thirties and forties saw an increase in films with skewed views towards the US government, lack of immoral behavior, and patriotism with our entrance into WWII. Because of the Hays Code, instituted around this time but not fully enforced for several years, many propaganda films were produced, including the infamous Reefer Madness. Nowadays the public has dubbed this as campy comedy, a sad remnant of the paranoia fueled ignorance of the early twentieth century. I was disappointed in viewing this film, as I was expecting some shenanigans and tomfoolery so inconsistent with drug use that it was over the top. The film does have some corny lines and strange scenes, but is very serious in its message of keeping people drug free. Watching the sheer inaccuracy of the subject material, and the supposed research into it just made me increasingly angry, the authority this film held and the lack of objectivity in reviewing the effects of the drug seriously harmed America's education of magician (spelt wrong throughout the film). Not only do characters in this film uncharacteristically laugh in cackles like a maniacal crow, but they murder, lie, commit suicide, and apparently become promiscuous, leading to rape in some cases. There are even links to insanity, deep circles under the reefer user's eyes, a madness on their lips. Neither funny nor medically relevant, this is good for a curious venture but not a serious view.
Spencer S.
Super Reviewer
Reefer Madness (Tell Your Children) (Doped Youth) Quotes
There are no approved quotes yet for this movie.