The Ref
(1994)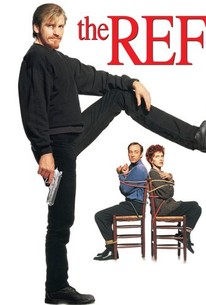 TOMATOMETER
AUDIENCE SCORE
Critic Consensus: Undeniably uneven and too dark for some, The Ref nonetheless boasts strong turns from Denis Leary, Judy Davis, and Kevin Spacey, as well as a sharply funny script.
Movie Info
Caroline and Lloyd (Judy Davis and Kevin Spacey) are a married couple constantly at each other's throats, masters at crafting acid-tongued barbs at the other's expense. Indeed, they are so obsessed with belittling each other that they never stop -- not even at gunpoint. Such is the premise of the acerbic comedy The Ref, which shows what happens when this quarrelsome duo is taken hostage. The gunman is Gus (Denis Leary), a thief on the run from the police, who kidnaps the couple as an insurance policy, planning to use their home as a hideout. But their incessant bickering proves more than Gus bargained for, forcing him -- for the sake of his own sanity -- into the unenviable role of peacemaker. To make things even worse for Gus, he discovers that he has taken the couple hostage the night of their big Christmas party, and the guests are already on the way. Not wanting to leave Lloyd and Caroline unattended, Gus opts to attend the party, pretending to be the couple's marriage counselor. This naturally leads to a series of comic confusions, as the hostage crisis and marital tensions head towards their inevitable conclusion. ~ Judd Blaise, Rovi
News & Interviews for The Ref
Critic Reviews for The Ref
Audience Reviews for The Ref
½
Now this is a blast from the past, well the early 90's. Back in the days when Leary was a smokin' hot comedian but not much of a movie star and Spacey wasn't that much of a movie star either!. One of those films yous saw in the videoshop amongst the other comedies but never rented because you didn't really know who the actors were, and you'd never heard of the film, maybe that's just me. The plot isn't rocket science but it is genius. Its Christmas and a robber is on the run, so he kidnaps a middle aged married couple, taking them back to their house. Little does the robber know these two lovebirds are having a bit of a marital spat and are at each others throats. To top that the whole family are on the way for Xmas Eve dinner so Leary's robber must try to control the happy couple whilst dealing with a group of nosy pestering family members. It really does sound like the next perfect National Lampoon caper for Chevy Chase, the whole film is very much like 'Christmas Vacation' accept this is more for adults. Its all very obvious really, naturally Leary uses his quickfire motormouth wit to spearhead much of the comedy and cruel attacks against various family members. Spacey's character is soft spoken but with a sharp tongue whilst Davis' character beautifully grows from calm and collected to spiteful rude and loud with her verbal assaults as she slowly gets more drunk. The main attacks fly in the direction of Spacey's mother played in a very stuffy way by the stout Glynis Johns. Of course the old mother character has money so the family normally suck up to her constantly, but this all breaks down slowly as the evening progresses which leads to some very funny moments. You can count on Leary to lose his rag in a monumental fashion with everyone as the heat builds and his window to escape slowly closes. Quite simply the film plays on the common much used comedic factors of our own relations, something that every family in the world can probably relate to. The old mother who is gruff with little tact and heavily controls one son too much. That son being downtrodden weak and always overruled by his wife who clearly wears the pants in the relationship. The other son not liking his brothers wife (his sister-in-law) because she has his brother whipped. The old mother not liking either sons wives and the wives not liking her (the mother-in-law) either. Caught in the middle are the kids who watch with glee as their parents, aunts, uncles and grandparents swear and curse at each other. All the characters are very cliched no doubt, all the usual family stereotypes are drained of every last drop of predictable comedy completely. But it works brilliantly, watching the grown ups verbally abuse each other whilst trying to hold it together for the kids and for Christmas is hilarious. Tiptoeing around delicate issues and then bringing them up deliberately to cause an outburst, it makes you laugh it makes you cringe. Then to add to that you have Leary going nuts trying to keep everything civil whilst trying not to break his cover and trying not get caught by the old bill. The fact Leary acts as the marriage counselor for Spacey and Davis really cranks up the laughs when he verbally jousts against the mother and sister-in-law. This is one of those perfect anti-Christmas flicks that's perfect for Christmas. All the performances are really very good bringing the film to life and making the story so compelling. Its a completely character driven plot with no fancy set pieces or effects or crazy stunts, its all about the dialog. Yeah you know it will have a happy ending and you kinda know how it will pan out as your watching, but its still a dark razor sharp witty pleasure.
Phil Hubbs
Super Reviewer
½
A smartly crafted holiday comedy film that focuses on a cat burglar who takes a dysfunctional family hostage. The Ref is a smart, funny comedy with a great cast. Denis Leary is perfect in his role, and Judy Davis and Kevin Spacey have great chemistry as the dysfunctional couple. Though the humor slows down a bit, the story is engaging enough for you to be entertained and with a good cast like this, it's impossible not to be. There's a perfect blend of effective storytelling that compliments the humor, and though it's not as hilarious as so many mainstream critics have said, The Ref is still funny enough for you to laugh and enjoy a fun, entertaining hour and a half. What really makes this a good film are the performances, everyone of the cast is well picked for the parts they play. I really enjoyed Denis Leary, and I thought watching him loose his mind as the couple and family is driving him crazy was just funny, and simply a great comedic performance. The Ref has its flaws, but overall it works well enough to be a highly entertaining comedy film with a good cast of talented actors that make this film worth watching. This is a good comedy with plenty of laughs that is smartly crafted and is worth seeing if you're in the mood for a comedy with great acting and a good story. Not a perfect film, but for what it is, The Ref delivers a good, solid entertaining hour and a half filled with laughter. Denis Leary is really the one that delivers here, and he makes the film a must see.
"The Ref" is one of my favorite Christmas movies, it stars Denis Leary as a cat burglar who unwittingly takes bickering couple Kevin Spacey and Judy Davis hostage and ultimately ends up having to meet with the entire, annoying family for Christmas dinner. As the feuding spouses, Spacey and Davis are perfect. They have a corrosive chemistry together and feed off of their character's biting, ill-spirited, hilarious put-downs and rantings. Denis Leary is also crudely effective as the titular character, tortured by the couple's incessant fighting. The family dinner is another laugh riot, with the actors hitting all the right chords as the stereotypically irritating, obligated-to-visit relatives who have an equally uneven family. Besides the family hostage story, there are also several other stories that run throughout the movie involving blackmail and a disgruntled neighborhood Santa Claus. Director Ted Demme balances all these storylines, albeit sometimes not very developed ones, and juggles them adequately with the main act. Ted Demme's direction is also controlled and never lets up, sticking to the scripts incisive arguments and family-haranguing and not reducing this smart, sometimes dark comedy to a typical, brainless holiday flick. The only time he falters is with the ending, of which the last minute could have been cut. Otherwise, this is a very funny, stinging, and unusual Christmas movie that gets more laughs than most Hollywood-packaged, uninspired crowd-pleasers.
David Ladd
Super Reviewer
The Ref Quotes
| | |
| --- | --- |
| Gus: | Great! I just beat up Santa Claus! |
| | |
| --- | --- |
| Connie: | Who would catch criminals and then just let them go? |
| Mary: | Republicans. |
| | |
| --- | --- |
| Gus: | Let's get one thing straight. From now on, the only person who yells is me. Why? Because I have a gun. People who have guns can do whatever they want. Married people without guns, for instance, you... |
| Caroline: | Um-hum. |
| Lloyd: | Um-hum. |
| Gus: | Do not get to yell. Why? No guns! No guns! No yelling! Simple little equation! |
| | |
| --- | --- |
| Connie: | The spirit of Christmas is either you're good, or you're punished and you burn in hell. |