Reflections in a Golden Eye
(1967)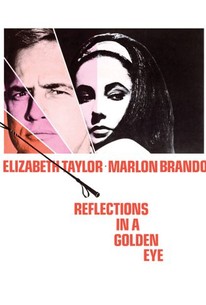 Reflections in a Golden Eye Photos
Movie Info
Marlon Brando appears as Major Weldon Penderton, a sexually confused army officer stationed at a Georgia military base in the late 40s. When his wife begins to stray, his lust turns to a young male soldier.
Critic Reviews for Reflections in a Golden Eye
Audience Reviews for Reflections in a Golden Eye
Reflections in a Golden Eye" was recognized by John Huston himself as his most important film of his late period along with "The Man who would be a King". While generally the later is accepted as his masterpiece "Reflections in a Golden Eye" is misunderstood as Huston's "misfire", as a "flop", an opinion with which I tend to disagree. What we have here is a good drama whose story is based on a book by Carson McCullers, featuring superb performances from Marlon Brando who plays a U.S. Army Major in an isolated military fort somewhere in the south, who gradually discovers his homosexuality and Liz Taylor, simply great here in the role of his cheating wife. The film, which is basically a serious drama, turns out to be something of a cynical human comedy, due to "ridiculousness" of all of it's characters and the way the story is told by film's director - John Huston. Overall it's an intelligent film whose main theme is repression and ultimate frustration of desire with it's tragic consequences. 3 Stars 2-25-14
Bruce Bruce
Super Reviewer
½
Square pegs do not fit into round holes. Disregard the critical reviews on this one, especially if you enjoy Southern gothic dysfunction.
Stefanie C
Super Reviewer
½
Considering the talent involved (Marlon Brando and Elizabeth Taylor directed by John Huston?) Reflections in a Golden Eye is a colossal waste of anything you can ever think of, including the time I put into watching it. The story is creepy, dull, moronic and completely fucking pointless. Lobotomize Tennessee Williams, stick him in front of a typewriter and on a good day this is what you'd end up with. There was not one character I didn't want to take a baseball bat to out of utter disappointment. It's like Huston filmed more of a movie, lost a good chunk of it and just half-assed this together or some nervous studio executives took the wheel. Between Robert Forster's naked horseback rides and Julie Harris' little Philipino manservant who made Liberace look like John Wayne. Some of the cinematography was nice, as was Taylor's body double's ass but there was just too much the audience wasn't let in on storywise to make me clap at the end. Avoid at all costs!!!
Michael Gildea
Super Reviewer
Reflections in a Golden Eye Quotes