Reform School Girls
(1986)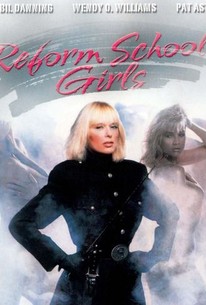 Reform School Girls Photos
Movie Info
A softcore, low-budget film with no pretentions to a viable plot or character development, Reform School Girls just proceeds along the foul-mouthed, suggestive lines of its genre without anything new to add. Charlie (Wendy O. Williams, who committed suicide in April of 1998, at the age of 48) runs a reform school along with fat Edna (Pat Ast) and the tough warden Sutter (Sybil Danning) whose quotes from the Bible have little effect on her co-workers. As new inmates are intimidated into sexual acts and everybody generally wanders around in as little as possible, it does not take a genius to figure out that sex is the main protagonist in this blue film.
Critic Reviews for Reform School Girls
Audience Reviews for Reform School Girls
½
"Don't just stand there, bring me something to wipe my shoe." I has never seen a "women in cages" movie prior to seeing this, so I really had no idea what to expect. Which is good, because no expectations could have prepared me for this, anyway. Reform School Girls is lurid, sordid, exploitative, pure cheese, and yes, even entertaining. If you can handle the absurdity of it all, anyway. The plot is paper thin (Othello, this is not). A young woman gets sent to a reform school/youth prison after a botched bank robbery, and tangles with the corrupt warden and head matron, as well as a gang of vicious girls. That's basically it. And there's lots of underwear. Basically, you probably already know if you like these kinds of movies, or you're a newbie like me. If you're unfamiliar with the genre, aren't easily offended, and have a fondness for campy/tongue-in-cheek absurdity, I suggest you try this out for the sheer novelty of it. I'll be seeing a few more, just to see if they can possibly get even more over-the-top than Reform School Girls.
All someone could hope for in a film of this title... and I mean that in the best way possible.
Patrick Dolan
Super Reviewer
Reform School Girls Quotes
There are no approved quotes yet for this movie.