Regression
(2016)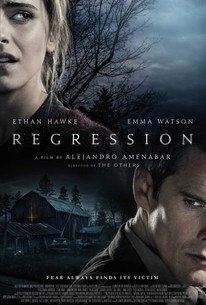 TOMATOMETER
AUDIENCE SCORE
Critic Consensus: Regression boasts a pair of eminently likable leads -- neither of whom are able to dislodge the movie from the mire of psychological thriller mediocrity.
Movie Info
Minnesota, 1990. Detective Bruce Kenner (Ethan Hawke) investigates the case of young Angela (Emma Watson), who accuses her father, John Gray (David Dencik), of an unspeakable crime. When John unexpectedly and without recollection admits guilt, renowned psychologist Dr. Raines (David Thewlis) is brought in to help him relive his memories and what they discover unmasks a horrifying nationwide mystery. (C) TWC-Dimension
News & Interviews for Regression
Critic Reviews for Regression
Audience Reviews for Regression
This is, perhaps, less interesting than any movie dealing with the subject of satanic cults and satanic rituals should be. I've always found movies like this to be incredibly fascinating and not even for the reason you might think. I don't know, but I see movies like this or cases like the West Memphis 3 and the paranoia/hysteria it takes for an entire community to come down on a group of people just because someone else told them that they belonged to a satanic cult without any legitimate evidence. And this is in reference to the West Memphis 3, these teens were convicted of a crime they did not commit, nor did the state have any evidence to justify its claims, and remained arrested for close to, if not, 20 years. I'm not saying this film deals with that, because it's been covered ad nauseam in various documentaries and books. But I just wished the film dealt more with what drives someone to believe these things without any actual proof of them actually happening. Because the film does deal with that type of paranoia, but it doesn't really go in as much detail as it probably should. The problem with the film is the fact that it's not exactly sure what it wants to be. As Bruce keeps investigating these accusations of sexual abuse and satanic rituals, his mind is opened more to the possibilities that these things are actually real. Despite the fact that, again, there's nothing to suggest that these accusations are based on something that actually happened. It's all about the power of paranoia and suggestion, because a lot of the 'memories' these cops are using as evidence of any actual crime taking place have been constructed as a result of the suggestions the cops made. It's been proven that memories can be easily manipulated. There have been studies performed where people, as a result of suggestion, admit to things that they simply have not done. But the film doesn't play with that in a clever way, Bruce starts to hallucinate about the satanic sect coming to his house at night to perform rituals on him and force him to take part in their sacrifices. It's to the point where you're not sure whether it really happened or if it's a creation of Bruce's own memory, taking everything around him and everything he sees and hears and his mind just filling in the blanks. After a bit of that, the film goes back to the fact that it was all collective hysteria and none of it actually happened. It's not that I didn't mind that they went back to something that's real to solve the crime, but it comes across more like the film wanted the best of both worlds. They didn't want to commit to it being a legit satanic cult nor did they want to fully commit to it being something imagined as a result of suggestion. And, really, you can't have it both ways. I mean, you can and this film clearly attempted, but it's like have some balls and take a risk and commit to one. Because the way it was done here felt really unsatisfying. It just didn't work. The acting is solid. Ethan Hawke, Emma Watson and Daniel Thewlis are all good. So no complaints there. I do have some complaints regarding the casting though. So Emma Watson's character accuses her family of being members of a satanic cult. There's the grandmother, her father and her brother in the family and, goddamnit if they did not feel like a family at all. Google Emma Watson, Dale Dickey, Devon Bostick and David Dencik and tell me if they look like they could be an actual family in the real world. This might not be such a big deal, but the entire story is predicated on Angela, Emma Watson's character, hating her family so much that she'd come up with these lies. It'd be a little more believable if they looked like an actual family instead of just random actors being cast together to play a family. Ethan Hawke and Emma Watson looked more like family and, before watching this, I even thought that they were. It is what it is. That was a major flaw, to me. That and the fact that, honestly, the flick is a little on the dull side. The acting is solid and everything and Alejandro Amenabar clearly has an eye for visuals. It's just a shame that the story is a major letdown. This isn't terrible or anything, it's just below average. I can't really recommend it, even if it is available on Amazon Prime.
Jesse Ortega
Super Reviewer
Interesting idea, but doesn't really play out too well.
Stephen Skudlarek
Super Reviewer
½
The atmosphere of the film is at times scary and thrilling. The plot twist of the film makes it somewhat more realistic, but the film as a whole felt boring. It couldn't make up its mind whether it was going to be a supernatural or realistic crime film. I couldn't even tell whether Emma Watson's accent was American or English.
Tarin Pairor
Super Reviewer
Regression Quotes
| | |
| --- | --- |
| Angela Gray: | I just don't remember. |
| | |
| --- | --- |
| Angela Gray: | I heard a knock at the door. There was an old lady. They were headed to my dads workshop. I could hear chanting, they were wearing robes. There was a black mask. I think they were following me. |
| | |
| --- | --- |
| Angela Gray: | They'll kill me. |