Reign of Fire
(2002)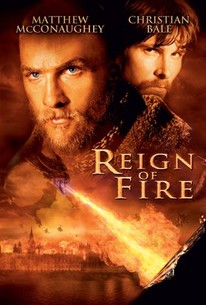 TOMATOMETER
AUDIENCE SCORE
Critic Consensus: Reign of Fire gains some altitude with its pyrotechnic action and a smolderingly campy Matthew McConaughey, but the feature's wings are clipped by a derivative script and visual effects that fizzle out.
Movie Info
In present-day London, twelve-year-old Quinn watches as his mother, a construction engineer inadvertently wakes an enormous fire-breathing beast from its centuries-long slumber. Twenty years later, much of the world has been scarred by the beast and its offspring. As a fire chief, Quinn is responsible for warding off the beasts and keeping a small community alive as they eke out a meager existence. Into their midst comes a hotshot American, Van Zan, who says he has a way to kill the beasts and save mankind--a way Quinn's never seen done.
Critic Reviews for Reign of Fire
Audience Reviews for Reign of Fire
½
A cool and different action film many may have missed. Set in the future after the rise of Dragons across the world. Has an impressive final battle set in the heart of a scorched London!
What a waste of talent! Christian Bale,Gerard Butler, Matthew McConaughey, Alexander Siddig -- and not a single moment when acting mattered. Why wasn't Ben Kingley in this schlock -- it seems tailor made for him! (Think: "Blood Rayne", but a little better.) This film is muddled beyond belief, but it's pretty, so that counts for sumin'.
Christian C
Super Reviewer
½
[img]http://images.rottentomatoes.com/images/user/icons/icon14.gif[/img] An excellent set up with a completely satisfying if slightly inadeqaute payoff. The post apocalyptic B movie epic Reign of Fire maintains a sense of genuine danger, anguish and dread. Even whilst assuring the audience not to take any of it too seriously, I found myself thinking that it really was the end of everything. That's an achievement for a film with this many logical flaws and laughable ideas. But essentially what's really needed to make a film about doomsday survivors slaying dragons work is decent CGI creatures. The visuals are in fact stunningly eye popping and look like the real deal. There's also some great cinematography and a handful of strong performances not normally found in an action film. Matthew McConaughey in particular is energetic, believeable and engaging as the bizzare and irrational antihero. So much that Christian Bale is almost overlooked. But not quite, his acting and his believeable Scottish accent is a surprise. As is the script which is a lot less cringe-worthy than I was first expecting. But I can't say the same about the odd lack of dragons shown on screen. There's only ever one dragon on screen with the exception of a single long shot with a whole wing of them. As for the expected explosive ending. It's a lot less fiery than it needs to be and therefore gives us a fairly dissapointing finale. Nevertheless you can't really hate the film unless you're totally immune to any form of cinematic charm, or the spectacle of watching great flying beasts breathing fire and destroying massive landscapes. Overall, the film doesn't explore the potential of it's jaw droppingly exciting premise. Still, it really engrossed me, and I enjoyed the experience of watching it.
Directors Cat
Super Reviewer
Reign of Fire Quotes
| | |
| --- | --- |
| Denton Van Zan: | Don't be a fool. We do this easy... or we can do this real easy. |
| Denton Van Zan: | Don't be a fool. We do this easy or we can do this real easy. |