Reign Over Me
(2007)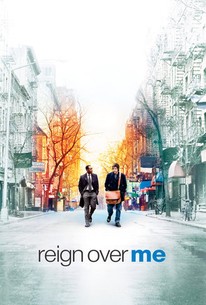 TOMATOMETER
AUDIENCE SCORE
Critic Consensus: Reign Over Me is a charming, affecting tale of friendship and loss, with solid performances from Adam Sandler as a broken, grief-stricken man and Don Cheadle as his old friend and savior.
Movie Info
A man, who lost his family in the Sept. 11th attacks and has never recovered from his grief, runs into his former college roommate who is determined to help his ex-roomie come to grips with his loss.
Critic Reviews for Reign Over Me
Audience Reviews for Reign Over Me
Such a good change of the normal Sandler filck. This was really heartfelt and emotional. Sandler shows he's got real acting chops and show people in the real road, which I am a fan of. Amazingly talented cast. Another change from the average Sandler flick.
Joshua Wilburn
Super Reviewer
½
Very moving and touching but I do prefer Adam in more comedic rules.
Cassie Hill
Super Reviewer
½
So, did you like Adam Sandler's serious work in Punch-Drunk Love? You didn't see it/thought it was too similar to his comedic work with little drama? Well, how about Spanglish? You didn't see it/wanted to see him do it with a bigger role? If you answered the latter to one or both questions, and you haven't seen Reign Over Me... why are you reading this review? It can't be that you haven't heard about it. Well, if you haven't, here's a brief rundown of the story: dentist Alan Johnson (Don Cheadle, who needs to be a bigger name. Now) runs into his old college roommate Charlie Fineman (Adam Sandler who by now should convince people at large he can do serious work) , who seems distant and depressed in contrast to the man about town, happy-go-lucky man Alan knew of yesteryear. Alan later discovers that Charlie's family died in 9/11 and in those five years, Charlie's just withdrawn into himself and cut off ties with anyone who knew his wife and daughter. Both men spend time rekindling their friendship and searching within themselves and each other for what they need to overcome. Like I said, Don Cheadle is wonderful. His character is not just well played, he's sharply written. Anytime an uncomfortable situation comes up, like talking to his wife (Jada Pinkett Smith) about a woman, Melanie (Paula Newsome) trying to seduce him, he reacts in a calm and rational matter, no stuttering or violent rage. That's who he is, a peacekeeper. And he's under a lot of pressure. His marriage isn't all that it could be, due to lack of communication with his wife; Melanie is suing him for advances SHE made, due to her obsession with him; and when Charlie re-enters his life, it just hits him how much Charlie just seems to have given up on life. Speaking of Charlie, Adam Sandler plays this role similar to the one he played in Punch-Drunk Love only with more depression fueled rage as opposed to eccentric fueled rage. While that too is one of my favourite movies, I wouldn't disagree if someone said it was essentially Adam's man-child humor with a slight more serious focus. But it's here where his anger and blue mouth work best. Charlie's on a self destructive path, and lives in his own little world, because the real one is something he's not ready to re-embrace. He may seem self-involved but that's because by opening up to people and connecting with people, in particular those who knew his family, he leaves himself vulnerable to thinking of them again. This leads to a court case to determine whether or not he needs to be placed under someone else's care due to his lifestyle possibly endangering others and it is the most powerful sequence in the movie, no question. Charlie's family keep being brought up, with her parents right there in court, showing pictures of Charlie's wife and daughter and Charlie's about ready to burst. I couldn't help but be sucked into that, I'm on his side all the way. And on a smaller note, how awesome is Donald Sutherland? He only gets the court room scenes to act in but he acts the Hell out of them. Yes, he's made some crap but so have a lot of actors and I've forgiven them. One more thing about the courtroom scenes and why I like them: think of Big Daddy. Most times when an Adam Sandler character has to deliver the big dramatic speech, all the wacky cameo characters return to support the big moment even if his character is as thick is a brick-constructed building holding bricks (Billy Madison is a prime offender but gets off by being talked down to in such an epic manner). But all it is, after the jokes, is one big dramatic "look at me, I can be serious for a moment!" schtick. Dude, forget it, you made the whole thing a farce. But here, you're not laughing now. You want to leap to his defense and get him out of there as soon as possible. It really is a nice contrast to all these antics in previous Sandler films. It's funny a couple of times but after a while, it's time to retire the schtick. If you haven't seen anything I suggested at the beginning that could convince you Adam can blend his silly voices with confronting drama, go with this. Or Funny People. Either way, prepare to be amazed.
Reign Over Me Quotes
| | |
| --- | --- |
| Charlie Fineman: | "I'm more worried about you, Johnson. I'm more worried about you." |
| Charlie Fineman: | I'm more worried about you, Johnson. I'm more worried about you. |
| | |
| --- | --- |
| Charlie Fineman: | I have no one. At least you two have each other. [Charlie talks to Mr.&Mrs.Timplemen] |
| | |
| --- | --- |
| Charlie Fineman: | I even see the dog. That's how fucked up I still am! I look at a german shepherd I see our goddamned poodle! |