Relative Values
(2000)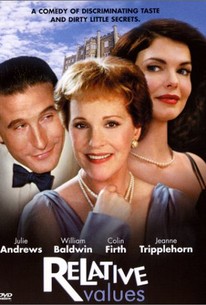 Movie Info
Adapted for the screen from the 1951 play that revived playwright Noel Coward's flagging reputation, Relative Values is another wit-laden addition to the English comedy of manners ouevre. Set sometime during the mid-20th century, the film opens on the French Riviera, where nebbish English aristocrat Nigel (Edward Atterton) has just announced his engagement to vulgar American movie star Miranda Frayle (Jeanne Tripplehorn). Nigel's news dismays both his mother, Felicity (Julie Andrews), and Miranda's former lover, fellow screen icon Don Lucas (William Baldwin). Felicity manages to strap on a stiff upper lip while Don drowns his sorrows in booze and flees to England. Meanwhile, Felicity's personal assistant Moxie (Sophie Thompson) makes the rather startling announcement that Miranda is her estranged younger sister. Everything looks set to go pear-shaped until Felicity's cunning butler Crestwell (the ever-cunning Stephen Fry) comes up with an ingenious plan that will turn the tables in Moxie's favor. After Nigel returns to his mother's estate with Miranda in tow, Crestwell's plan is complicated by the unexpected arrival of an inebriated Don at a dinner party that Felicity is throwing for the engaged couple. ~ Rebecca Flint Marx, Rovi
Critic Reviews for Relative Values
All Critics (5) | Top Critics (2) | Fresh (1) | Rotten (4)
... a trying-too-hard film version of a bubbleheaded Noël Coward play...
The lightweight comedy remains undemanding, but offers some droll Brit humor that might satisfy the Anglophiles.
Audience Reviews for Relative Values
½
Cute movie. Definitely a Julie Andrews G-rated nice movie..
Cynthia S.
Super Reviewer
½
Minor but pleasing comedy immeasureably uplifted by the participation of Julie Andrews, Colin Firth and Sophie Thompson. Julie uses her regal graciousness to fine comic effect while Sophie does her wonderful mousey bit before letting rip with a full on tongue lashing. Colin's part is small but he offers humorously urbane asides. Stephen Fry is also most enjoyable as the dependable butler. As the movie star couple though Jeanne Tripplehorn and William Baldwin are out of their depth with these pros.
Relative Values Quotes
There are no approved quotes yet for this movie.