The Remains of the Day
(1993)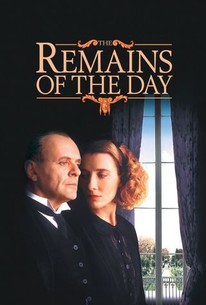 TOMATOMETER
AUDIENCE SCORE
Critic Consensus: Smart, elegant, and blessed with impeccable performances from Anthony Hopkins and Emma Thompson, The Remains of the Day is a Merchant-Ivory classic.
The Remains of the Day Videos
The Remains of the Day Photos
Movie Info
Filmed with the usual meticulous attention to period and detail of films from Ismail Merchant and James Ivory, The Remains of the Day is based on a novel by Kazuo Ishiguro. Anthony Hopkins plays Stevens, the "perfect" butler to a prosperous British household of the 1930s. He is so unswervingly devoted to serving his master, a well-meaning but callow British lord (James Fox), that he shuts himself off from all emotions and familial relationships. New housekeeper Miss Kenton (Emma Thompson) tries to warm him up and awaken his humanity. But when duty calls, Stevens won't even attend his own dying father's last moments on earth. The butler also refuses to acknowledge the fact that his master is showing signs of pro-Nazi sentiments. Disillusioned by Hitler's duplicity, the master dies an embittered man, and only then does Stevens come to realize how his own silence has helped bring about this sad situation. Years later, regretting his lost opportunities in life, he tries once more to make contact with Miss Kenton, the only person who'd ever cared enough to seek out the human being inside the butler's cold veneer. ~ Hal Erickson, Rovi
News & Interviews for The Remains of the Day
Critic Reviews for The Remains of the Day
Audience Reviews for The Remains of the Day
½
A beautifully wrought piece about the dangers of living through the affairs of aristocracy, this film is the embodiment of the Merchant-Ivory set of films while also being a fairly faithful adaptation of the book by Kazuo Ishiguro. Though the book is well represented and the overall message and grandeur of the film was in no way affected, I did take issue with several liberties that changed scenes in the book, raised questions that needn't be, and arguably some choices were simply unavoidably strange. Characters were merged, POVs were changed, and undertones were glaring. But I digress, this film does justice to the text by showing the incomparable Anthony Hopkins in a role that could only belong to him. His instincts as a servant and as a man with "dignity," as he espouses, truly embodied the character of Stevens. He seemed bland, yet affected, kind yet unbothered, and clinical while being personable and repressed. Oh, was he repressed. So enters Emma Thompson as Miss. Kenton, the housekeeper who keeps Stevens on his toes and challenges his pre-conceived notions. Their relationship really is the entire film, while also being about loyalty to someone who is blindly being led astray themselves in a long train of unforgiving ignorance. Stevens though, is a character whose psyche just goes deeper and deeper, a well of misgivings and fraudulent narration, unreliable in his own emotions and the way the facts of the film are presented. You want him to rendezvous with the one he longs for, but he is tethered by the belief that he has a grand purpose, and if he doesn't see it through than his entire life has been wasted. Next to Random Harvest this is the saddest film I have ever seen, because it rallies around an idea as old as time, and then doesn't see it to fruition. It's about longing, love, manipulation, and the callous reality that a life worth living is not expected to always be great. I find this film, and the book it is based off of, to be beautiful and poignant in its tender recognition of humanity. Though I don't agree with some decisions by the screenwriter and director, I do agree that this was a film that was difficult to put together, as there was first person narration in the book and none here. It really was a film that achieved on a level unexpected, and stayed heart warming throughout.
Spencer S.
Super Reviewer
While the movie was full of excellent performances, the story itself didn't leave an impression strong enough on me (yeah, again expectations were high, thanks to IMDb ratings). Besides, the execution wasn't effective enough to keep me glued to the movie. If anything was done quite right, it was the casting of the movie. That's what made this 2+ hours journey tolerable for me.
familiar stranger
Super Reviewer
½
I am a sucker for starched-collar, buttoned-down romance, and this movie is pretty much the definition of that. Also, it has old people. I LOVE old people love stories. Ishiguro I'm not too crazy about, but I can forgive him.
Jennifer Xu
Super Reviewer
The Remains of the Day Quotes
| | |
| --- | --- |
| Stevens: | A man cannot call himself well-contented until he has done all he can to be of service to his employer. This assumes that one's employer is a superior person not only in rank or wealth, but in moral stature. |
| Stevens: | In my philosophy, Mr. Benn, a man cannot call himself well-contented until he has done all he can to be of service to his employer. Of course, this assumes that one's employer is a superior person, not only in rank, or wealth, but in moral stature. |
| | |
| --- | --- |
| Stevens: | If two members of staff have to fall in love and decide to get married, there's nothing one can say. But what I do find a major irritation are those persons who are simply going from post to post looking for romance. |
| | |
| --- | --- |
| Stevens: | I don't believe a man can consider himself fully content until he has done all he can to be of service to his employer. |