Rembrandt's J'Accuse
(2008)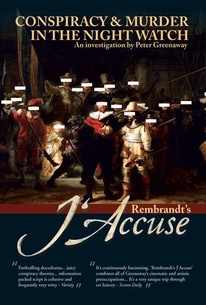 Rembrandt's J'Accuse Photos
Movie Info
The film explains how and why The Nightwatch, Rembrandt's J'Accuse, is a criticism of Amsterdam's oligarchy and plutocracy of the Golden Age. Greenaway explains the background, the context, the conspiracy, the murder and the motives of all its 34 painted characters who have conspired to kill for their combined self-advantage. Greenaway leads us through Rembrandt's paintings into 17th century Amsterdam.
Critic Reviews for Rembrandt's J'Accuse
Audience Reviews for Rembrandt's J'Accuse
This Peter Greenaway film is heady, dense and intellectually demanding. Big surprise, eh? Mixing documentary style with recreations drawn from his companion film "Nightwatching" (which is much easier to watch), Greenaway himself appears onscreen to narrate a wordy, PhD-level dissection of Rembrandt's celebrated painting "The Night Watch." Relying on another of his easily parodied "list" structures, the director proceeds through 34 numbered mysteries surrounding the work, offering explanations that may or may not be fully provable (I am not an art scholar, so I'm not the one to ask). As with "Nightwatching," the central thesis is that Rembrandt embedded clues in his painting to expose an elite Dutch militia group's murder conspiracy. And furthermore, that this daring act of rebellion led to his upper-crust benefactors shunning him -- thus bringing about his financial ruin.
Eric Broome
Super Reviewer
½
Peter Greenaway would like to report a murder. As it turns out, it is the ultimate cold case, having happened over 350 years ago. But all the evidence he needs is in The Night Watch, a 1642 painting by Rembrandt(Martin Freeman), currently hanging in the Rijksmuseum in Amsterdam. "Rembrandt's J'Accuse" is a fascinating documentary and reconstruction that brings history to life and has the power to change the way a casual observer looks at artwork by using one painting as a case study. What is the artist trying to convey? There's probably more going on than just a pretty image. At the same time, Greenaway attacks the visual illiteracy in society today(no comment), making this also Greenaway's J'Accuse. Along the way, while also playing the chief inquisitor, he details the answers to 30 mysteries plus one(reminding me a bit of the numbering scheme in his "Drowning by Numbers") in the painting to reveal not only that Piers Hasselburg(Andrzej Seweryn) was murderered when it was made to look like a military accident but also who did it and why, all set upon a wide ranging canvas of local 17th century Dutch politics and history and Europe in general at the time when Holland was a relatively free society. Like today, political assassinations are rare there, bringing to mind the murders of Theo Van Gogh and Pim Fortuyn. And I'll bet you thought art history was boring. I did.
Rembrandt's J'Accuse Quotes
There are no approved quotes yet for this movie.