Remember
(2016)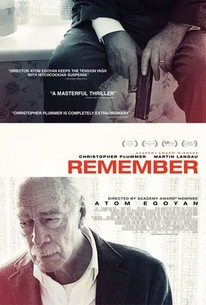 TOMATOMETER
AUDIENCE SCORE
Critic Consensus: Remember risks wandering into exploitative territory, but it's bolstered by some of Egoyan's best latter-day directing and a typically stellar performance from Christopher Plummer.
Movie Info
Remember tells the story of Zev Guttman (Academy Award (R) Winner Christopher Plummer), a 90-year-old struggling with memory loss who is living out his final years in a serene retirement home. A week following the death of his beloved wife Ruth, he suddenly gets a mysterious package from his close friend Max (Academy Award (R) Winner Martin Landau), containing a stack of money and a letter detailing a shocking plan. Both Zev and Max were prisoners in Auschwitz, and the same sadistic guard was responsible for the death of both their families-a guard who, immediately after the war, escaped Germany and has been living in the U.S. ever since under an assumed identity. Max is wheelchair-bound but in full command of his mental faculties; with his guidance, Zev will embark on a cross-continental road-trip to bring justice once and for all to the man who destroyed both their lives.
News & Interviews for Remember
Critic Reviews for Remember
Audience Reviews for Remember
I must say that if Christopher Plummer doesn't get any love for this performance during next year's awards season then I'm gonna be very upset. Well maybe that's a bit of an exaggeration. Part of me genuinely doesn't care about awards. If I like the movie, then what does it really matter if the film wins any awards. It doesn't affect whether or not I like the movie. With that said, however, I must say that Christopher Plummer is absolutely tremendous in this movie. I genuinely mean that. Just the way he becomes this character and how expresses himself, even down to the way he talks. He completely embodies this character and you can tell that there's a dark past that he was witness to in Auschwitz. Essentially, the film tells the story of Zev who goes on this journey to kill the man who killed his and his friend's family. I don't wanna say the film is fairly straightforward, because there's a certain point where the film pretty much changes in tone and it gets 'more' serious, as if it wasn't serious prior that point. It's not that the film takes itself seriously to the point of mockery, even thought it has to, dealing with such a sensitive subject, but the film definitely isn't afraid to go to some dark places, as evidenced by the climactic last act. Perhaps the most memorable scene in the film, outside of the one that'd leave people the most shocked, is Zev visits the house of one of the prospective men he's looking for, he has a list of four names and he has to figure out who's the man that was responsible. It turns out that this man has passed away and he spends some time with this man's son, the supremely talented Dean Norris, sharing stories about his father, who he thinks served with Zev during the second World War. The thing about this scene is the fact how, with the figurative snap of the fingers, Jack, Dean's character, switches personality. He's presented as this affable, likable man who's doing everything to accommodate Zev. When he finds out that Zev is a Jewish man, however, he turns into the biggest, nastiest and detestable racist you can find. I'm not about to say Dean Norris is one of the best actors I've ever seen, he's a great character actor, but the way he switches 'allegiances', as it were, couldn't have been more convincing. He speaks with such a hatred for Jews that it's a little disturbing at times. That's a testament to Dean's talent as an actor, that he was just so easily able to switch from likable man to a complete dick, all in the span of 15 seconds. It also makes it satisfying to see him gets his comeuppance, no sympathy for the character whatsoever. But it's an incredible scene with some really great acting. From both Dean Norris and Christopher Plummer. The really big scene, however, is when Zev, who also suffers from dementia and constantly forgets things, finally finds the man he's looking for and he's faced with the knowledge of what really happened. There is a twist to the film. I'm sure it's one that many people could predict if they've seen, oh, more than 10 movies. I mean what else could it be other than the first thing that comes to mind. I'm not gonna spoil it myself, but I think the twist itself, while not exactly super surprising, still makes perfect sense within the context of the film's story. Again, it leads to some dark moments, but I think it works and it does add a little more depth to Zev's character. Really, to be honest, I thought this movie was great. I really did legitimately like the story, but it's Plummer's performance that takes it to that very next level. I'm kinda surprised that there hasn't, as far as I noticed, been much buzz around the film and, more specifically, Plummer's performance. It's not the best movie I've ever seen, not by a long shot, but it is a great movie as far as I'm concerned. The writing is really strong and the acting is absolutely fantastic. I would definitely highly recommend this.
Jesse Ortega
Super Reviewer
A Jewish man goes out searching for the escaped Nazi who ruined his life. Christopher Plummer is superb as the soul tirelessly on point, when he can recall that that's what he's doing. It's an interesting take, worthy of your time, all done w/o flashbacks.
Kevin M. Williams
Super Reviewer
Christopher Plummer delivers a powerful, poignant performance in this extremely well-directed thriller that finds a very delicate balance between quietly tense, uncomfortable and thought-provoking, even if it could have really done without that unnecessary, redundant last scene.
Carlos Magalhães
Super Reviewer