Remember Me, My Love
(2004)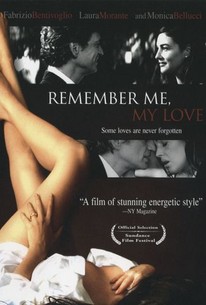 TOMATOMETER
AUDIENCE SCORE
Critic Consensus: Remember Me, My Love doesn't lack drama, but the movie's muddled message and a surfeit of disagreeable characters add up to something less than the sum of their parts.
Remember Me, My Love Photos
Movie Info
Gabriele Muccino's Ricordati di Me (Remember Me) is a drama about two generations in an Italian family. Carlo (Fabrizio Bentivoglio) and Giulia (Laura Morante) are a married couple who have each given up their aspirations in order to live an average life. Their 19-year-old son, Paolo (Silvio Muccino), is having trouble finding an identity, while their 18-year-old daughter, Valentina (Nicoletta Romanoff), has already figured out how to use sex to her advantage. The family goes through a crisis when Carlo begins having an affair, Giulia attempt to seduce the director of a local stage production she is in, and Valentina does what she does best to land an audition for the same production.
Critic Reviews for Remember Me, My Love
Audience Reviews for Remember Me, My Love
This could have been titled Believe in Me, My Love. The people in this film all have issues with confidence, exasperated by the fact that no one believes in their abilities. Carlos (Fabrizio Bentivoglio) has an unfinished book he has been writing for years. It remains unfinished because his wife, Giulia (Laura Morante) thinks it of no consequence. Giulia, meanwhile, gave up her acting career because Carlos told her she didn't have the talent to continue. The story is built on this foundation and presents to us two people who must seek validation outside of their relationship. In many ways, this is a sad tale of two people who love each other, but the pieces just don't seem to fit. This viewer found the juxtaposition of the husband and wife seeking to fulfill their dreams separately to be moving and somewhat emotionally draining. The arguments that ensue as each discovers what the other is up to present some classic screaming fits by Giulia that would have added a comical touch, if they had been a little less numerous. Meanwhile their two kids are struggling with finding their own way. The daughter pursues a dream and uses her body to achieve it, while the son just tries to make friends and hook up with the girl of his dreams. The film was well done. The pacing and the music enhanced the story as it unfolded. One felt that one was eavesdropping on these people and their lives. An intimate film that invites us in without being intrusive.
Mark Abell
Super Reviewer
½
I was really not a huge fan of this movie. I saw a glimmer within it of something that I actually did want to see, but a glimmer was all it was: the play Giulia was in seemed intriguing. Watching these characters interact fills me with the feeling that I'm somehow missing something that they're all privy to. Nobody's happy with who they have, but they all seem to want to salvage their old relationships just to spite each other. I will never understand women who blurt "I never want to see you again" and still expect thier partner to stick around. Carlo's clingy wife doesn't know what she wants. They both cheat on each other, yet interpret the infidelity of the other as a deep personal slight. This movie reminded me of Closer in that the tragedy lay mainly in the fact that if only the characters knew how to communicate thier desires honestly and articulately with each other, they wouldn't constantly hurt each other as badly as they do.
Emily Armstrong
Super Reviewer
½
[font=Century Gothic]In "Remember Me, My Love", the Ristuccia family is in a state of crisis. The marriage between Carlo(Fabrizio Bentivoglio) and Giulia(Laura Morante) is a loveless one. Carlo, who has an office job he despises, has a chance meeting with an old flame, Alessia(Monica Bellucci), which reawakens old feelings and thoughts concerning a novel he once started writing. Meanwhile, Giulia, a teacher, gets another shot at her passion - acting in the theater. Their daughter, Valentina(Nicoletta Romanoff), auditions as a dancer for a popular television show. Their son, Paolo(Silvio Muccino), has just been dumped by his girlfriend, Ilaria(Giulia Michelini), and seeks to win her back while finding a purpose to his life.[/font] [font=Century Gothic][/font] [font=Century Gothic]"Remember Me, My Love" is a fast-paced drama about a family that is coming apart at the seams in a collective mid-life crisis. The film moves too fast for its own good with frequent camera movements and rapid editing, smartly commenting on the fast-paced world we live in but regretfully not staying in any one place long enough to really get to know any of the characters. Still, the ending does make up for some of the movie's faults.[/font]
Remember Me, My Love Quotes
There are no approved quotes yet for this movie.