Remember the Night
(1940)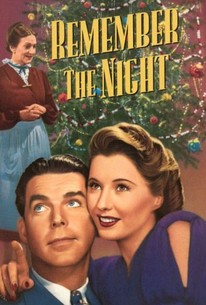 Remember the Night Photos
Movie Info
With a deft blending of humor, sentimentality and romance, this Preston Sturges-penned comedy centers on the romance between a caring attorney and the shoplifter he must prosecute. The whole situation begins near Christmas time when the girl (Barbara Stanwyck) is caught lifting a diamond bracelet from a posh New York store. Because the holiday is so close, the judge decides to postpone the case until after the New Year, leaving her to spend the season alone in jail. The assistant D.A. (Fred MacMurray) assigned to prosecute her, learns that the girl is from his home state and so offers to take her to her mother's home. Unfortunately, her mother rejects her, leaving the D.A. with little choice but to take her home with him. There, she is welcomed by the D.A.'s mother and family. She is deeply moved by the unaccustomed love and happiness she feels there, but though that love extends to the D.A., she refuses to show it because she is afraid that her joy is only fleeting. Her fear grows and she eventually decides whether to jump bail and escape or stay and face the music.
Critic Reviews for Remember the Night
Audience Reviews for Remember the Night
½
four years before double indemnity, stanwyck and macmurray made this very different film together. the plot may be a little far fetched but sturges' banter is unmistakable. better than the holiday classic christmas in connecticut imo
Stella Dallas
Super Reviewer
½
Remember the Night is a good but not great movie. The Preston Sturges-scripted story starts off with his signature madcap qualities but director Mitchell Leisen takes the movie into melodrama country for the last act. In Leisen's defense, that Niagara Falls scene was beautiful. Fred MacMurray and Barbara Stanwyck are as always, amazing together And of course Beulah Bondi was fantastic to the point where you almost wish she was your mom. Remember the Night is a great watch if you're tired of Christmas movies--there's enough Christmas going on without it getting shoved down your throat.
Michael Gildea
Super Reviewer
½
The leads elevate a decent script to a superior level.
Remember the Night Quotes
There are no approved quotes yet for this movie.