Les Rendez-vous d'Anna (The Meetings of Anna)
(1978)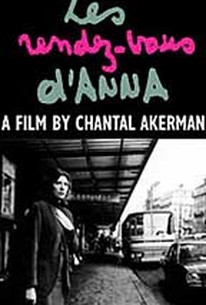 Les Rendez-vous d'Anna (The Meetings of Anna) Photos
Movie Info
Anna (Aurore Clement) is a film director whose job takes her all over western Europe. In each place she either already has some intimate connection, or readily makes one. People seem drawn to her, but inevitably insist on sharing their inmost secrets and discontents with her, despite her obvious and profound lack of interest in these revelations. This does not deter Anna from continuing to meet people, and she genuinely connects with them occasionally, as when she sees her mother briefly in Brussels. ~ Clarke Fountain, Rovi
Critic Reviews for Les Rendez-vous d'Anna (The Meetings of Anna)
Audience Reviews for Les Rendez-vous d'Anna (The Meetings of Anna)
½
In "Les Rendez-Vous D'Anna," Anna Silver(Aurore Clement), a film director, checks into a hotel in Essen, West Germany for a showing of her latest film. When she gets to her room, she places a call to Italy and is told of a wait of two hours. Relaxing, she does not even take off her coat or shoes at first before being called down to the theater and an interview. Upon her return, she is accompanied by Heinrich(Helmut Griem), a schoolteacher. During their lovemaking, she stops, saying that she does not love him.(Since when has that ever stopped anybody?) At least, maybe she could meet his daughter the following day before she leaves? I understand how some people could get frustrated with the static pace of "Les Rendez-Vous D'Anna." Even though I feared the DVD was skipping in a couple of places and would have liked the performances to be a little more animated, the movie's slowness works well in contrast to Anna who is being pushed and pulled in several directions at once, not only all over Europe which has problems of its own going back to World War II, but also on a personal level which reflects back on writer-director Chantal Akerman whose early films, like this one, seem very autobiographical.(To punctuate this, her middle name is Anne.) For Anna, that comes down to a choice between a career and a family(she has had two abortions). That's not all as there is another direction which simultaneously excites her and frightens her which is mentioned in a searing confession towards the end of the movie.
Les Rendez-vous d'Anna (The Meetings of Anna) Quotes
There are no approved quotes yet for this movie.