Rendezvous in Paris
(1996)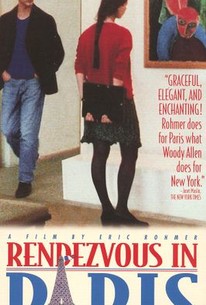 Rendezvous in Paris Photos
Movie Info
Chance meetings provide the central theme for this Parisian film comprised of three loosely related episodes. The first, "Le Rendez-vous de 7 heures," centers on Esther, who tries to make her womanizing boyfriend jealous by finding her own new lover. She finds a likely candidate in a Montmartre market; they begin talking and agree to meet at the Beaubourg cafe that night. There, he steals her wallet. Later a stranger returns it. The stranger mentions that she must go to the Beaubourg to meet her ex-lover. Esther accompanies her and gets a big surprise. In the second episode, "Les Blancs de Paris," two would-be lovers hold a series of conversations in various Paris locales. The problem is that she is trying to find the courage to leave her fiancé. The new man, a young professor, asks her to move in with him. Instead, they end up planning to spend three days in a Montmartre hotel while her fiancé is out of town. There the woman meets with an unfortunate coincidence. In the last vignette, "Mere et enfant 1907," an artist and his Swedish lady friend go to an art gallery. There the painter sees a young woman admiring Picasso's 1907 canvas Mother and Child. He then abandons his friend and takes off after the woman through the winding streets. Eventually, he ends up at her studio where he meets with disappointment.
Critic Reviews for Rendezvous in Paris
Audience Reviews
There are no featured reviews for Rendezvous in Paris at this time.
Rendezvous in Paris Quotes
There are no approved quotes yet for this movie.