The Replacements
(2000)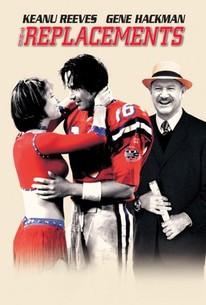 Movie Info
The 1987 National Football League players' strike inspired this sports-themed comedy. The Washington Sentinels are one of the strongest teams in pro football -- until contract negotiations break down and the Sentinels go on strike. Determined to play the team's schedule, owner Edward O'Neil (Jack Warden) recruits a ragtag band of scab players, to be headed up and whipped into shape by the retired veteran coach Jimmy McGinty (Gene Hackman). At the top of the recruitment list is quarterback Shane Falco (Keanu Reeves), a promising athlete until a catastrophic defeat in the Sugar Bowl dashed his confidence. Joining Falco on the team are Clifford Franklin (Orlando Jones), a receiver who can't catch the ball; Nigel Gruff (Rhys Ifans), a chain-smoking Welsh soccer player; Bateman (Jon Favreau), a former cop with anger management problems; Fumiko (Ace Yonamine), a sumo wrestler new to football; and Wilkinson (Michael Jace), a convict on parole to the Sentinels. Can McGinty mold his new squad of misfits and no-hopers (who truly love the game) into a winning team? Brooke Langton plays Annabelle, head of the Sentinels' cheerleading squad (who has to contend with replacements of her own), and football commentators John Madden and Pat Summerall appear as themselves. ~ Mark Deming, Rovi
Critic Reviews for The Replacements
Audience Reviews for The Replacements
One of the worst things I have ever had the misfortune of watching. Cliche writing, terrible acting, this movie gets very little right.
Sanjay Rema
Super Reviewer
½
Not so much a sports movie but rather a sports fantasy fried in buckets of greasy charm. Still watchable but only just.
Kevin M. Williams
Super Reviewer
I'm not a huge fan of sports movies in general, but this was semi-descent. It's kind of so wacky that you almost can't enjoy it on some level. The cast worked good together and I actually think that it's one of Keanu Reeves best performances.
Conner Rainwater
Super Reviewer
The Replacements Quotes
There are no approved quotes yet for this movie.