Replicant
(2001)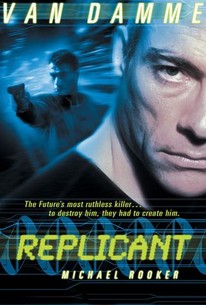 Movie Info
This $17 million direct-to-video production by Hong Kong director Ringo Lam is the story of a fire-obsessed serial killer (Jean-Claude Van Damme) and the recently retired cop (Michael Rooker) intent on stopping him. After finding his hair follicle at a crime scene, a secret government agency clones the killer in the hopes that the replicant will aid in the search. Although he's full-grown, the clone (also played by Van Damme) has the emotional and mental capacity of a young child. Soon the naïve replicant begins to have visions of past murders and an abusive mother, leading him to escape and seek the killer on his own. ~ Skyler Miller, Rovi
Critic Reviews for Replicant
Audience Reviews for Replicant
Claude Van Damme plays two roles; a brutal serial killer, Edward "The Torch" Garrotte with a taste for young mothers - killing them before burning them and the replicant of the same killer (because clones clearly have psychic connections to their evil originators) created in a government laboratory for one reason only: to help a cop find this killer. Michael Rooker is the ex-cop who had been assigned to the "The Torch" case and who gets the job of babysitting the "replicant". OK the plot is ridiculous but who watches a Van Damme film for the plot? You watch it for the violence and action and I had a Damme good time watching it lol.
½
didnt finish it wont to though reli good film
Film Crazy
Super Reviewer
Preposterous thriller stars Jean-Claude Van Damme not once but twice, playing a clone of himself. The original Van Damme is a vicious serial killer terrorising Seattle. The second Van Damme is a clone of the killer, created with the hopes of being used to track down the original. It plays as silly as it sounds, a sci-fi rehash of several genres with as much flair and excitement as dead grass. The production values are higher, but the acting and script are direct-to-video masterpiece.
Dean McKenna
Super Reviewer
Replicant Quotes
There are no approved quotes yet for this movie.