Repo Man
(1984)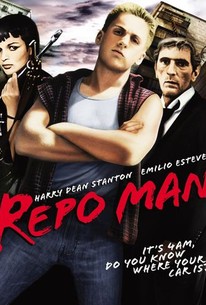 TOMATOMETER
AUDIENCE SCORE
Critic Consensus: Repo Man is many things: an alien-invasion film, a punk-rock musical, a send-up of consumerism. One thing it isn't is boring.
Movie Info
A down and out young punk gets a job working with a seasoned repo man, but what awaits him in his new career is a series of outlandish adventures revolving around aliens, the CIA, and a most wanted '64 Chevy.
Critic Reviews for Repo Man
Audience Reviews for Repo Man
½
A shiftless punk kid takes a job as a car repossesor and finds himself among the many ruthless parties searching for a 1964 Chevy Malibu with a mysterious cargo in the trunk. This gritty punk satire has an appealing wackiness, boosted by sharp dialogue and great roguish performances by Emilio Estevez and Harry Dean Stanton.
This is definitely a product of its time. Alex Cox's debut film is a wild and inventive, albeit messy mix of sci-fi, dark humor, G-Men, and punk rock, and it all revolves around the world of car repossession. Otto is a young down trodden punk who reluctantly gets a job as a repo man, a job he at first scoffs about, but comes to love, mostly due to the quick cash, and the exciting car chases that result, mostly due to the fact that they're an inescapable aspect of the job. All seems to be going fine enouh, but he suddenly gets thrust into a mad cap screwball plot that's such a wacky and convoluted mess that it makes fellow cult classic The Big Lebowski seem normal and mainstream by comparison. The movie is defintiely inventive, and has lots of neat ideas, and, while I can't fault a film in general for trying to be ambitious, I think Cox tried a little too hard and tried to throw too much into the mix with this one. It's all so absurd and weird and really doesn't come together all that great, yet, the film's not boring, and is made better by the performances from Emilio Estevez as Otto, and Harry Dean Stanton as the repo guru Bud. Also, Olivia Barash sticks out as being attractive in a rahter odd way (to me at least). I dunno, it was late at night whe nI watched it, and I was tired, and it seemed like she was more "out there pretty" than "regular pretty". Anyways, this movie's not great, but it's not a full on train wreck either. It's flawed, yet still kinda fun. If you're into films that defintiely aren't predictable, and have an appreciation for punk, then give this a spin.
Chris Weber
Super Reviewer
½
Talk about cult films, this is probably the king of cults, the perfect example of a trashy low grade 80's punk film that incompasses everything from a weird B-movie plot to glorious displays of anarchy. Harry Dean Stanton riding high on his 'Alien' fame still chose to go with this which is curious but shows his respect for director Cox, a true British oddball. The plot is just non sensical really, dead aliens in the trunk of a car that is being driven around by some scientist guy who is slowly going mad from the radiation emitted from the bodies. At the same time Estevez and Stanton are repo men and pinching peoples cars when they hear of this one car and the reward, there isn't really much explanation for backstory here. I love how this film looks with its grimy low budget vibe and harsh street language hehe you gotta love Estevez's look here too, weird kinda clean cut punk thing going on. The film makes little sense and isn't explained in any fashion, it just happens cos it happens basically, director Cox manages to combine an Ed Wood level of sci-fi with a kind of urban punk ghetto gang theme running through it at the same time. The results are not exactly off the wall but gloriously silly, cheap and somewhat eccentric if you will, the whole thing is kinda like a druggie trip. Certainly not mainstream and probably not liked by just as many that do and see it as a cult classic. Very unique yet kinda pointless really, there doesn't appear to be any kind of revelation or moral to the story, it just ends on a very tacky looking bit of sci-fi leaving the rest up to you.
Phil Hubbs
Super Reviewer
Repo Man Quotes
| | |
| --- | --- |
| Miller: | You'll find one in every car. You'll see |
| | |
| --- | --- |
| Duke: | Let's go get sushi and not pay! |
| | |
| --- | --- |
| Agent Rogers: | It happens sometimes, people just explode. Natural causes. |
| | |
| --- | --- |
| Otto Maddox: | (to his mother, which tells him to eat off a plate so he can enjoy the meal more) Couldn't enjoy it any more, Mom. Mm, mm, mmm. |