The Republic of Love
(2004)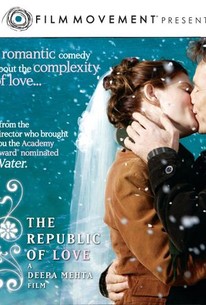 The Republic of Love Photos
Movie Info
Tom is a charismatic late-night radio talk show host, whose unconventional upbringing has made him a little too quick to fall in love and marry, resulting in three divorces before the age of 40. Fay is his total opposite; her romantic ideal has not yet been attained and is unlikely ever to be due to her impossibly high expectations as a result of living with the perfection that is her parents' rock solid marriage. This unlikely pairing proves the rule that in love, there are no rules and the couple meet and fall deeply in love at first sight. All is faultless, until Fay's parents' marriage breaks down suddenly, out of nowhere, after 40 years of wedded bliss. Fay and their relationship are thrown into turmoil. Will Tom be able to persuade his naturally cautious and terminally confused fiancée to work through all the damage and chaos?
Critic Reviews for The Republic of Love
Audience Reviews for The Republic of Love
An interesting movie! Good story plot. Great cast! Beautiful music. An amazing director! (One of my favorite directors) Here's a movie that gives an intriguing perspective into the dynamics of love, family, relationships, and friendships. Tom and Fay are two individuals who meet and fall in love at first sight. They are inseparable and believe that love is definitely worth pursuing. Definitely worthy!
The Republic of Love Quotes
There are no approved quotes yet for this movie.