Reservoir Dogs
(1992)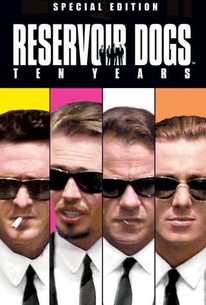 TOMATOMETER
AUDIENCE SCORE
Critic Consensus: Thrumming with intelligence and energy, Reservoir Dogs opens Quentin Tarantino's filmmaking career with hard-hitting style.
Movie Info
In 1992, Reservoir Dogs transformed Quentin Tarantino practically overnight from an obscure, unproduced screenwriter and part-time actor to the most influential new filmmaker of the 1990s. The story looks at what happens before and after (but not during) a botched jewelry store robbery organized by Joe Cabot (Lawrence Tierney). Mr. White (Harvey Keitel) is a career criminal who takes a liking to newcomer Mr. Orange (Tim Roth) and enjoys showing him the ropes. Mr. Pink (Steve Buscemi) is a weaselly loner obsessed with professionalism. Mr. Blonde (Michael Madsen) has just gotten out of jail after taking the rap on a job for Cabot; he's grateful for the work but isn't the same person he used to be. While Mr. Blonde goes nuts during the heist, the thieves are surprised by the sudden arrival of the police, and Mr. Pink is convinced one of their team is a cop. So who's the rat? What do they do about Mr. Blonde? And what do they do with Mr. Orange, who took a bullet in the gut and is slowly bleeding to death? Reservoir Dogs jumps back and forth between pre- and post-robbery events, occasionally putting the narrative on pause to let the characters discuss such topics as the relative importance of tipping, who starred in Get Christie Love!, and what to do when you enter a men's room full of cops carrying a briefcase full of marijuana. ~ Mark Deming, Rovi
News & Interviews for Reservoir Dogs
Critic Reviews for Reservoir Dogs
Audience Reviews for Reservoir Dogs
One of the lynchpins of this work is how it strongly relies on and fully expects that the viewers have seen other films like this and seen so many perhaps that they'be grown tired of the genre. That's where this begins and ends, upsetting all those previous expectations, and laughing at them as well. It's a fun ride.
Kevin M. Williams
Super Reviewer
A bloody, violent and darkly-humored crime movie that already showcased Tarantino's talent for crafting stylish narrative exercises full of energy and elongated exchanges of dialogue, even if we can see that this was an intelligent filmmaker still only at the start of his game.
Carlos Magalhães
Super Reviewer
"Somebody's stickin' a red hot poker up our asses and I wanna know who's name's on the handle" Before becoming a cinematic auteur a young Quentin Tarantino worked in the film rental store Video Archives in Manhattan Beach, and would often recommend little-known titles to customers. On one occasion, he suggested Louis Malle's "Au Revoir Les Enfants", to which the customer mockingly replied, "I don't want to see no Reservoir Dogs." And so the title of Tarantino's blistering debut film was born. It was originally planned as a $30,000 personal film with his friends, before Harvey Keitel showed an interest in the script and came onboard as the star and co-producer which helped hike the budget up to $1.5 million. The rest, as they say, is history. Tarantino had finally made his mark on the movie map and has since become one of the most highly praised directors of his, or any other, generation. Crime lord Joe Cabot (Lawrence Tierney) and his son Nice Guy Eddie (Chris Penn) assemble a crew of trusted criminals who they appoint with colour coded aliases to protect their identity: Mr. White, (Harvey Keitel), Orange (Tim Roth), Pink (Steve Buscemi), Blue (Eddie Bunker), Brown (Quentin Tarantino) & Mr. Blonde (Michael Madsen). Their plan is simple: rob a jewellery store and make off with the diamonds to a prearranged rendezvous. However, the robbery doesn't go down well and those that are left alive suspect that they have a police informant amongst them. Few debuts have made as much of an impact on cinema goers as Reservoir Dogs has. It heralded the arrival of an energetic new writer/director and opened up the floodgates to numerous crime imitations thought the 1990's. Few, if any, achieved the same impact. However, there were some that criticised Tarantino for being a plagiarist. There were obvious references to films like Stanley Kubrick's The Killing, John Huston's The Asphalt Jungle, Joseph Sargent's The Taking of Pelham 123 and most notably Ringo Lam's City on Fire. Without a doubt, Tarantino was influenced by these movies but stealing is a very strong accusation. Now, many years and several more films down the line, I think it's fair to say that Tarantino has an extensive film vocabulary and often pays homage to some of his favourite filmmakers. Film knowledge may be deemed esoteric by some but in Tarantino's case it helped him craft three of the best films from the 1990's - along with Dogs there was, of course, Pulp Fiction and the vastly underrated Jackie Brown. And besides the point of plagiarism, it was Tarantino's dialogue (entirely his own) that received the most praise for it's true originality. His characters talk fast and the words seem to jump of the screen and that's exactly where Reservoir Dogs' strengths lie. If it wasn't for the non-linear, chronology of events it would essentially be a chamber piece. Set largely within the confines of an abandoned warehouse, each character talks through what actually went wrong during their bungled heist. The heist itself is never witnessed as Tarantino decides to focus on the aftermath of the robbery rather than the event itself but it's the sharp and descriptive dialogue that allows these events to come to life in our imagination and each of the actors are allowed to spout their words with as much colour and vibrancy as their blood soaked shirts. There are many highlights amongst the ensemble but the three that stand out the most are the loyally professional Harvey Keitel, a highly-strung and opinionated Steve Buscemi and the cold, psychopathic Michael Madsen. If I had any issues with the cast at all, it would be Tim Roth's tendency to overplay his work. He, by no means, delivers a poor performance but too often over acts and his personal section of the story interrupts an otherwise precisely structured flow. This is a small gripe as Tarantino still has a solid handling on the material and executes it with the deftness and skill of a director twice his age. On this evidence alone his extensive, esoteric knowledge of film certainly paid off - not only for him but for the viewer. Heavily influenced by the likes of Martin Scorsese and Brian DePalma, among many other filmmakers, Tarantino was certainly not the first to use non-linear storylines, Steadicam techniques or distinctive soundtracks but he was a luminary to ambitious young directors that followed, and a lot of that came from this breathtaking film that set a whole new benchmark. One critic described Reservoir Dogs as "...a bloody, brash, brilliant heist thriller that grabbed audiences by the lapels and kneed them in the crotch"... I couldn't have put it any better myself. Mark Walker
Mark Walker
Super Reviewer
Reservoir Dogs Quotes
| | |
| --- | --- |
| Nice Guy Eddie: | I don't even know a fuckin' Jew who'd have the balls to say that. |
| | |
| --- | --- |
| Mr. Orange/Freddy: | He's convinced me, gimme back my dollar! |
| | |
| --- | --- |
| Mr. Blonde/Vic Vega: | Are you gonna bark all day little doggie, or are you gonna bite? |
| Mr. Blonde/Vic Vega: | Are you gonna bark all day, lil' doggie, or are you gonna bite? |
| | |
| --- | --- |
| Marvin Nash: | Hey Freddy. How do I look? |
| Mr. Orange/Freddy: | (chuckles) I don't know what to tell you Marvin. |
| Mr. Orange/Freddy: | [chuckles] I don't know what to tell you Marvin. |