Resident Evil
(2002)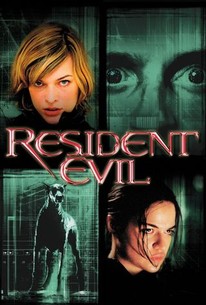 Movie Info
The director of Mortal Kombat (1995) adapts another popular video game for the big screen with this gory action thriller. Milla Jovovich and Michelle Rodriguez star as Alice and Rain, two members of a commando team assigned to infiltrate the Hive, an underground research laboratory owned by the faceless conglomerate known as the Umbrella Corporation. A bio-engineered virus has been released into the maze-like Hive, turning the facility's employees into mindless, flesh-eating zombies. A single scratch or bite from one of these rampaging ghouls dooms its victim, so the commandos have their work cut out for them as they attempt to reach the Red Queen, the lab's supercomputer -- and their sole hope of halting the spread of the contagion. Before they can complete their mission, however, the soldiers must overcome a variety of deadly obstacles, including mutant dogs, lasers, and a genetically altered beast known as The Licker, whose strength increases with every victim it slays. Alice and Rain also discover that the release of the virus may not have been an accident, and that a cure may exist somewhere in the deadly Hive. Resident Evil co-stars Eric Mabius, James Purefoy, Martin Crewes, and Colin Salmon. ~ Karl Williams, Rovi
News & Interviews for Resident Evil
Critic Reviews for Resident Evil
Audience Reviews for Resident Evil
A frenetic electro-rockish sci-fi zombie movie that focuses more on its intriguing mystery than on the scares, especially during the well-paced first act. The sets have a nice video game look and the result is not only better due to the atrocious CGI of the genetic mutated viral creature.
Carlos Magalhães
Super Reviewer
There was much trepidation when this came to bloom way back in 02, an adaptation of the highly popular zombie horror videogame franchise? hmmm. Anderson's first foray into the adaptation world after some reasonable films like 'Soldier' and 'Event Horizon', his CV didn't look too shabby but previous attempts at this sort of genre proved dismal. Amazingly enough this first offering in what is now an overly ridiculous 'Matrix' 'Blade' 'Underworld' monster mash mess is actually quite good and sticks to the original formula. It all kicks off inside the well known mansion but in an imaginative spin delves deep underground to the secret Umbrella facility. Here we get a very admirable 'Aliens' type thriller as a team of commandos battle to survive against a sadistic mega computer that runs the facility and of course lots of undead creatures/monsters. So the whole film is contained within the underground labs instead of roaming the mansion which at first seemed wrong. Maybe they could of done with some mansion action but it actually works well. Later adaptation 'Doom' does seem somewhat similar in premise though, slight case of concept rip methinks. Naturally the effects are mostly CGI for the creatures and they do now look rather crappy, very obvious. Of course you can't pan a film for that but the CGI hasn't dated well, where as sets and overall look for the film isn't too bad, zombies look a bit childish though. It is nice to see most of the videogame nasties in the film though, Anderson certainly did well not to stray far from the source yet add to it as well. Zombie dogs which aren't fully CGI but real dogs with makeup is a nice touch, a hint of the crows and Lickers which are good n scary...accept for the fact they are all fully CGI. The Red Queen computer character is a good addition to the fray and quite eerie at times also 'you're all going to die down here'. This film is a welcome presentation of the franchise and shows what can be done if done properly. Its still mind boggling to me that the film is actually a reasonably scary horror flick! there are quite a few good jumpy moments and certainly no hesitation with blood. A creation of slow building dread and suspense is well handled throughout, alongside some nifty visual moments and a good if slightly cliched bunch of commandos all adds up to a darn fun ride. Yes you can see many steals from other similar films (the usual tough bunch of soldiers taken down one by one) and the characters are all generic copies stemmed from a certain Cameron film but the fact its not a kiddie flick and watered down is fantastic and astonishing. There is no silly slow motion nonsense, no over the top set pieces, actually Jovovich plays it for real and isn't a Selene clone from 'Underworld'...yet. Probably the best of the series if you ask me, and it was an Anderson film!! Its formulaic and cliched but still provides enough punch to do what its suppose to do...pretty much like the 'Doom' film.
Phil Hubbs
Super Reviewer
½
Based on a video game of the same name, the "Resident Evil" films have become part of the cultural zeitgeist. While I find Paul W.S. Anderson films to be exploitative, gross, and so very lame, I get the allure, I do, but his films always leave a taste in my mouth, reminiscent of an egg binge. This film is a little more forgivable, because of its source material, using a woman as the protagonist and hero, and its huge impact on video game adaptations. Still, it looks so cheap and dark, which makes it more like a bit video game from the early nineties. The zombies were well constructed, and the zombie dogs were really gross and cool, which reminded me of great exploitation films of the seventies. Still, it just wasn't all that different from other action films, and it looked cheesy. The characters were indistinguishable, the premise was poorly executed, the Red Queen was not all that frightening, and Milla Jovovich is a blank slate, in the worst way. Just a badly executed, dark, kind of film.
Spencer S.
Super Reviewer
Resident Evil Quotes
| | |
| --- | --- |
| Alice: | I could kiss you bitch. |
| | |
| --- | --- |
| Red Queen: | Your all going to die down here! |
| | |
| --- | --- |
| Rain: | When I get out of here, I think I'm gonna get laid. |
| | |
| --- | --- |
| Rain: | She was psychotic, she bit me.. |
| Rain Ocampo: | She was crazed, she bit me.. |